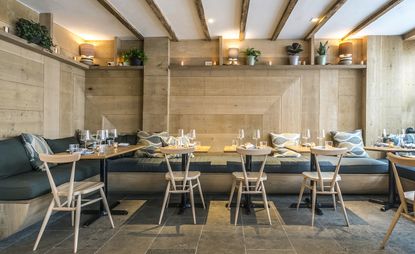 (Image credit: press)
When New York's Made hotel in Downtown Manhattan opened a few months ago, it was the talk of town for its is almost exclusively handcrafted interiors from bathrooms featuring Japanese ceramic tiles to raw-bronze shelving, polished stainless steel mirrors and rich hand-woven fabrics in guestrooms.
Now the final piece of the puzzle is finally in place, with the opening of its basement restaurant, Ferris. Continuing with the artisanal aesthetic, LA-based Studio Mai has dressed the space with French and American white oak walls and weathered spruce beams, which sets the tone for Japanese hand painted tiles, Lucian Ercolani elm wood chairs and a communal butcher's block table that takes centre stage.
From the open kitchen, chef Greg Proechel – formerly of New York staples Eleven Madison and Le Turtle – sends out seasonal New American fare from the deliciously spicy blood sausage, peppered with grilled dates and toasted seeds to the tender Iberico pork collar and the perfect parcels of carrot Agnolotti served with lamb neck and pickled squash.
Wash this down with an inventive cocktail such as the Gold & Delicious, concocted with apple brandy, Japanese whisky, almond and Castilian bitters. And for the full Made experience, head to the cosy lobby bar with a nightcap or the rooftop bar Good Behaviour, to soak up glittering views of the Manhattan skyline.
INFORMATION
ADDRESS
44 W 29th Street