Gloria Manor — Pingtung County, Taiwan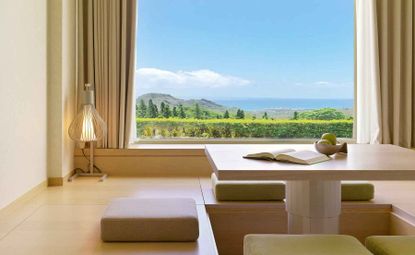 (Image credit: TBC)
Against a backdrop of the revered Dajian mountain, within the vast, bucolic sweep of Kenting National Park - right at the southernmost tip of Taiwan - it's only natural that Gloria Manor fully embraces its wholesome surroundings.
An iconic landmark in the region, the modernist property from 1969 has a storied history, having once been the official guesthouse for the former president, Chiang Kai-shek and, before that, the management centre of the country's Forestry Bureau.
These days, the building has been transformed by JJ Pan and Partners into a slick 60-room retreat with interiors by Taipei-based outfit JAHAA, who has smartly made the most of the surrounding views, by keeping things simple. And so, the spaces are layered with a pure, minimal palette of marbled walls, geometric floor tiles and light timbers. This is enhanced by a collection of clean, low slung furnishings and rich textures that nod to local materials and craftsmanship, like the bamboo ceiling installation in the lobby inspired by traditional rice sifters.
Similarly, at Mu restaurant, the menu is an intriguing mix of traditional dishes with contemporary touches, such as the berry and nut salad topped with salty Donggang Sakura shrimps or the local rice saffron seafood paella.
When not ambling through the peaceful Kenting National Park Recreation Area, or taking advantage of other activities like snorkelling in the nearby bay, the hotel has a bijou spa and lots to do from tofu making to soybean oil candle-making to keep you busy. Although, come sundown, you're likely to find us on our private guestroom balcony with a cocktail, as the brilliant pastel wash of the sunset begins to fade from the sky.
ADDRESS
101 Gongyuan Road
Hengchun Township
Pingtung 946
Melina Keays is the entertaining director of Wallpaper*. She has been part of the brand since the magazine's launch in 1996, and is responsible for entertaining content across the print and digital platforms, and for Wallpaper's creative agency Bespoke. A native Londoner, Melina takes inspiration from the whole spectrum of art and design – including film, literature, and fashion. Her work for the brand involves curating content, writing, and creative direction – conceiving luxury interior landscapes with a focus on food, drinks, and entertaining in all its forms