Solomillo — Barcelona, Spain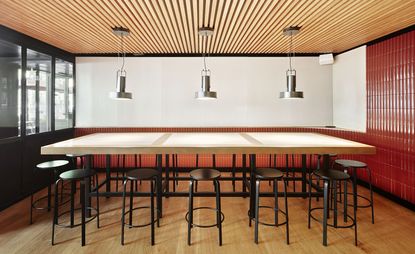 (Image credit: Solomillo restaurant)
Located at the base of Barcelona's Hotel Alexandra, Solomillo – according to its devotees – is currently serving up the finest sirloin in the city.
Helmed by chef Enrique Valentí, the steakhouse comprises a modern open plan brasserie on the mezzanine level, while the ground floor deli and bar entices diners in from the street with a delicious selection of cold cuts and cheeses.
Local studio Borell Jover has created an interior that is an ode to the Spanish design scene; from the black marble countertops sourced from quarries in Andalusia to the placemats by Navarra-based brand Delica, all components have been obtained through Reunión empresas de diseño (RED) an association that aims to protect and promote the values of the country's best design output. 'We wanted to create an interior that was timeless, but with a modern feel,' explain the architects Maria Borrell and Jorge Jover, who have skilflully mixed classics such as Lluis Porqueras' 1979 'Funiculí' lamps for Marset with new pieces like Andreu World's beech wood 'Carola' chairs.
INFORMATION
Website (opens in new tab)
ADDRESS
Calle Mallorca, 251
VIEW GOOGLE MAPS (opens in new tab)