San George — Amsterdam, Netherlands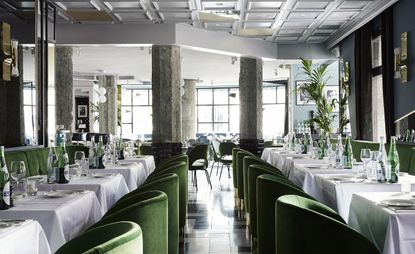 (Image credit: Kasia Gatkowska)
For the latest addition to the Netherland's George-family of restaurants, usually known for their rustic and monochrome spaces, Thomas Geerlings and Sascha Faase of Framework Studio were asked to amp up the glam-factor a couple of notches.
Located just off Amsterdam's busy Leidseplein square, San George exudes a 1950s Mediterranean glamour through the use of bold patterns and striking colour combinations. Custom-upholstered seating in Lelievre and Dedar velvets sit on top of a prominent black and white marble floor, laid out in geometrical patterns.
Exquisite brass detailing, Serge Mouille light fixtures, vintage barstools sourced from a casino in Monaco, and American photographer Slim Aarons' portrayal of high-society at play, add that extra pizzazz to the urban-chic bistro.
Inspired by Venetian cuisine, chef Bastiaan Doesburg's menu features medium-sized Italian classics such as vitello tonnato, caprese con burrata di bufala, bistecca tagliata and spaghetti vongole.
ADDRESS
Stadhouderskade 7