Hoppa — Amsterdam, Netherlands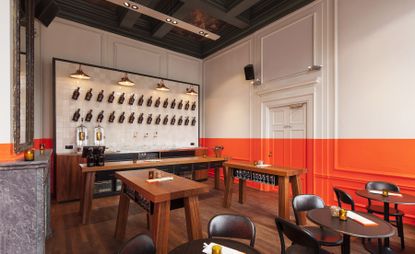 (Image credit: TBC)
Taking its cue from Amsterdam's longstanding brewing culture, Hoppa is the newest venue to burst on to the city's bar scene.
Launched by Bert van der Leden and Alex Jaspers — owners of restaurant group IQ Creative — the venue rides the wave of the plethora of young, local breweries now lining the capital's streets.
Located inside the landmark Odeon complex, which itself started life as a brewery in 1662 before concert rooms were added some 170 years later, the cosy tasting room combines the historic features of the building with contemporary design by local studio, Concrete.
The ubiquitous Dutch orange makes a unique appearance here, with the neon hue covering half of the wainscoted walls from the floor up: an unusual appearance alongside the room's grey marble fireplace and traditional ceiling frescos, but one that works. Strategically placed mirrors ensure the square room feels a lot more spacious than it is, though the intimate ambience is maintained by a series of long sofas, smooth wooden chairs and deep-hued benches and tables, all of which offer decent views of the lower canal.
Meanwhile the bar — crafted from Jatoba wood and blue steel — is backed by a wall covered in square white tiles from which a number of personalised growlers for regular visitors hang. From here a selection of over 35 craft beers and homebrews are proffered, including the first beer brewed by Hoppa itself, for local restaurant Happyhappyjoyjoy (also a member of van der Leden's IQ Creative) called HopHop; a spicy saison beer with lemongrass, ginger and cinnamon.
ADDRESS
Singel 460
VIEW GOOGLE MAPS (opens in new tab)