Fukuoka Hilltop Hotel — Fukuoka, Japan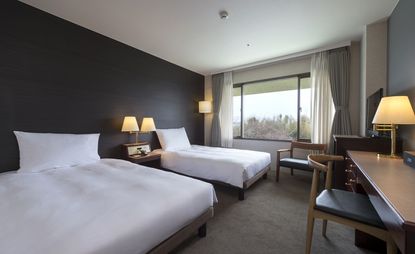 (Image credit: TBC)
As far as destinations go, Japan is still top of the list for many seasoned and first-time tourist alike. And while most head straight for the hubbub of Tokyo and then make their way to the beautiful temples and zen gardens of Kyoto, there are other areas of this vast country which are often overlooked.
One such example, is Fukuoka. Located to the north of Kyushu, the third largest and most southern of Japan's four main islands, the city is best-known for its beautiful scenery and open parks; its traditional outdoor food stalls - or yatai - delicious steaming bowls of tonkotsu ramen; and conveniently, it also makes a great base for day trips out to must-sees such as the historic town of Dazaifu or Mount Aso, the largest active volcano in the country.
On returning, there are, of course, a host of inner city hotels to bed down in, but for some respite, head to Fukuoka Hilltop Hotel. Located a short 20-minute car ride away, the property, as the name suggests, is located atop a hill, allowing for widespread views of the city and beyond.
A hotel for over 50 years, the property - now in the hands of Tokyo-based hospitality outfit AGORA - has been transformed into an urban oasis that is sure to put it straight onto the tourist map.
Designer Hideki Hamakawa from design office Ontoh Inc, has imparted his signature sleek urban cool aesthetic to the 48-guest rooms and public spaces, which includes a spa with natural hot spring baths; an open-air garden restaurant; a well-stocked library; and a hip café and carefully curated hotel shop in the lobby, that sells goodies from Kusu Handmade room fragrances to ceramics by Japanese brand Kihara.
And while you're most likely to find day-spa visitors or trendy weekend getaway couples meandering through the property now, locals need not worry: the adjoining Marcus Square complex includes a host of banquet halls and event spaces, ensuring generations to come can still celebrate special occasions and weddings in the city's much-loved destination hotel.
ADDRESS
1-1-33 Terukuni
Chuo-ku
Fukuoka