Cultureplex: Manchester's new social hub from the founders of London's Bistrotheque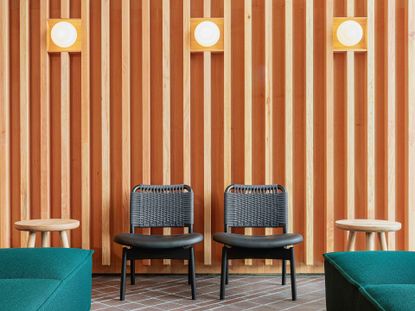 (Image credit: press)
There are few things as emblematic of Manchester as its towering redbrick warehouses, a remnant of the city's once noble status as a global hub of industry and trade. Recent years have seen these historic totems given fresh life as hotels, creative studios, swish urban apartments and, now, an ambitious new social hub from the founders of London's Bistrotheque – David Waddington and Pablo Flack.
A lounge, café, bar, restaurant and bijous 38-seat cinema, Cultureplex sits within a Grade II listed, 19th century former railway goods store. It is, in many ways, a tale of two cities, showcasing Manchester's distinguished past, as well as its reformist, hospitality-driven present.
Waddington and Flack tapped long-time collaborator Loren Daye for the design and together they set out to devise an aesthetic that reflects Manchester's unique cultural tapestry. A story of locality and craftsmanship run throughout, with dainty flourishes left by the wayside. Instead, there's an emphasis on the bold and hardy; staunch design for a no-nonsense city. 'We've exposed and celebrated the building as much as possible,' says Waddington. 'Quarry tile, steel, timber and warm illumination have been layered to soften and divide the space.'
Numerous regional manufacturers have been deployed to further strengthen ties to 'The North', from Ketley Brick floor tiles to textiles by Knot Collective, who used roughly 20,000 recycled plastic bottles to create the lounge's monochrome rugs. At coffeeshop Klatch, wall tiles mimic the light blue of the space's listed pillars and were produced by Blackburn's Darwen Terracotta – founded in the late 19th century. Liverpool's Granby Workshop, meanwhile, crafted the terrazzo counters, which feature fragments of reclaimed Manchester brick.
The connection to Manchester and the surrounding community is, of course, more than skin deep and extends to the hefty array of programming Cultureplex provides a platform for: be it live local musicians accompanying Sunday brunch, workshops on the creative industries or classes hosted by respected makers – those, like Cultureplex, reshaping the city for today.
INFORMATION
ADDRESS
Ducie Street
Manchester
VIEW GOOGLE MAPS (opens in new tab)