Eat Darling Eat — Hong Kong, China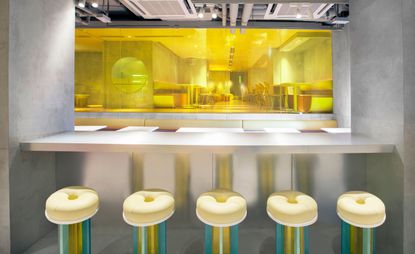 (Image credit: press)
Hong Kong architect Nelson Chow has designed a sweet salon in Causeway Bay with interiors that are as luscious as the confectionary.
This is harder than it sounds, because newly created brand Eat Darling Eat presents a novel, whimsical take on traditional Chinese desserts with inventive treats such as a papaya soup with snow fungus, papaya chips and mascarpone. 'We wanted to create a provocative setting that would mirror the imaginative and experimental desserts,' Chow explains. 'A postmodernist desserts laboratory provides the perfect backdrop.'
Even the strictest postmodernist would approve of Chow's playful combination of simple concrete and strong, saturated, florescent colours, geometric shapes and surreal optical illusions. There are a statement-making takeaway counter and donut and Jello-inspired custom stools, although customers are also enticed up to a split-level seating area by glimpses of surreal abstract art through a round, yellow-tinted glass window, while stairs flanked on one side with a stepped frame highlight access.
INFORMATION
ADDRESS
Shop 17
Ground floor
11-19 Great George Street & 27-47 Paterson Street
Fashion Walk
Causeway Bay