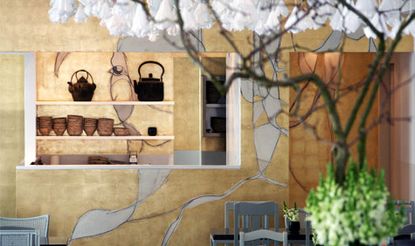 (Image credit: press)
Not a moment goes by without a new hotel, bar, restaurant or achingly cool venue opening its doors to the super-refined, style-seeking Berliners.
One of the most recent additions to the city, Chi Sing (opens in new tab), is an Eastern inspired gourmet sanctuary, offering a welcome culinary alternative to (sub) standard Asian fare.
see more images from Chi Sing (opens in new tab)
With design from German interiors innovator, Thilo Reich, the space is a serene combination of origami-influenced surfaces – all clean lines and angular simplicity – earthy tones, neutral quietness and delicate filigree finishings.
An intricate mesh of late nineteenth century decadence, Eastern minimalism and organic extras, the stylish space is all at once eclectic and harmonious.
Reich may have slightly stretched his Vietnamese theme to incorporate his wide-ranging, Pan-Asian influences, but this does little to damage his vision. The countless Japanese origami silk blossoms trailing from the ceiling, for example, did nothing to pollute our expectant palette.
Chi Sing's food philosophy has adopted the principles of traditional Vietnamese Huê Cuisine and adapted them dutifully.
Huê, a gourmet art indigenous to Vietnam, plays dexterously with the balance between colour, texture and flavour. Consequently, Chi Sing's array of gastronomic offerings is fresh, light and intricately put together. On top of this, all dishes are also entirely MSG free – trust us, your taste buds will thank you later.
Melina Keays is the entertaining director of Wallpaper*. She has been part of the brand since the magazine's launch in 1996, and is responsible for entertaining content across the print and digital platforms, and for Wallpaper's creative agency Bespoke. A native Londoner, Melina takes inspiration from the whole spectrum of art and design – including film, literature, and fashion. Her work for the brand involves curating content, writing, and creative direction – conceiving luxury interior landscapes with a focus on food, drinks, and entertaining in all its forms