Book: Detail in Contemporary Bar and Restaurant Design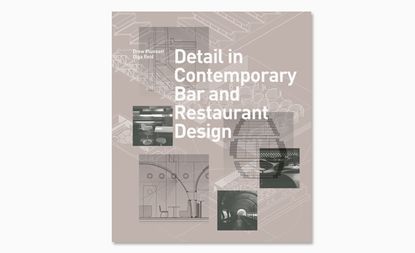 (Image credit: press)
Drew Plunkett and Olga Reid's new book, published by Laurence King, examines the exemplary interiors of a series of international restaurants and bars
Regular restaurant-goers will agree that sometimes it takes more than a delectable menu to ensure a satisfying dining experience. Interior design is a vital ingredient, as extolled by new book 'Detail in Contemporary Bar and Restaurant Design', which collates and explores the creative vision behind an array of international projects.

Those with the right recipe include Kwint (opens in new tab) by SAQ in Brussels, featuring a bar fashioned out of crumpled metal; Koichi Takada's (opens in new tab) suitably cavernous Cave restaurant in Sydney, encased inside undulating wooden ribs; and the colourful Praq (opens in new tab) eatery by Amsterdam-based design studio, Tjep (opens in new tab), which serves up a heady mix of geometric patterns.

The book, produced by interior design pundits Drew Plunkett (who has authored three previous books) and London-based Olga Reid, and published by Laurence King (opens in new tab), includes an introduction written by Plunkett himself, after which each location is listed according to its genre as a bar, café or restaurant.

Practical extras include floor plans and insightful picture captions detailing construction and decoration techniques, making it a true design bible for creating social environments.
Kwint, Brussels by SAQ
The crumpled metal form of Kwint bar rears up to run the length of the restaurant at high level. The padded wall conceals the service areas
Zebar, Shanghai by 3Gatti
Wooden ribs support seating in the bar area and appear to wrap continuously around all surfaces. Light sources of varying intensities, concealed between them, punctuate the length of the room
Praq, Amersfoort by Tjep
Flat planes, geometric patterns and coloured transparencies contrast with the textures of the timber structure at Praq
Das Neue Kubitscheck, Munich by Designliga
Austere wooden benches structure the plan of this restaurant, while other elements act as random focal points
Das Neue Kubitscheck, Munich by Designliga
Boxes cascading from the wall suggest that the superficially ordinary elements of the counter, display cabinet and shelves deserve consideration
Design Bar 2011, Stockholm by Katrin Greiling
Suspended translucent plastic sheets hover above this temporary bar at Stockholm Furniture Fair in 2011. The servery 'hut' and yellow bar provide its focus and the furniture pieces provide for different degrees of social interaction
MS Café, Lodz by Wunderteam
Seating areas are cocooned by plywood booths in this cafe-cum-bar, which is also home to a bookshop. Pops of colour are provided by the long, slim tables
MS Café, Lodz by Wunderteam
In the second bar area, the space is more open, in order to maximise the grandeur of the ceiling mouldings
Polka Gelato, London by Vonsung
Black and white furniture translates the graphic identity of this gelato into three dimensions
Cave, Sydney by Koichi Takada
The Cave is cocooned in a series of undulating wooden ribs, which dip over the seating area
Cave, Sydney by Koichi Takada
The ribs create a sense of rhythm within the space
The Nautilus Project, Singapore by Design Spirits
Another clever use of wood, this time in Singapore. Illuminated glass inserts mark thresholds to semi-private dining areas
The Nautilus Project, Singapore by Design Spirits
The skewed curves are echoed in the side-lit ceiling indentations
Dogmatic, New York by EFGH
A large table dominates the entrance of this New York eatery, lined with a mural on one side and a continuous bench on the other
El Portillo, Teruel by Stone Designs
The stretched red rope ignores the conventional geometry of El Portillo, echoed in the legs of the benches