Hotel Palisade — Sydney, Australia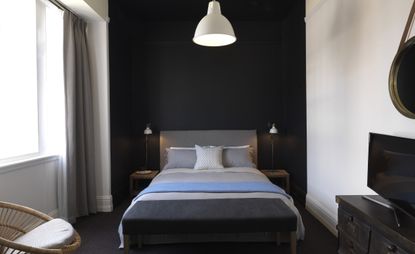 (Image credit: Nuance Photography)
Perched virtually cliffside on Sydney Harbour, Hotel Palisade was originally built to lodge visiting British engineers involved in the construction of the nearby Harbour Bridge. It also accommodated a rousing alehouse frequented by port workers and ANZAC soldiers bound for war.
Marking its 100th birthday, the Palisade re-opened in stages in the latter half of 2015, after a major overhaul including the addition of an enclosed glass rooftop bar and eatery - with expansive water views - by local architect Alex Popov and the refurbishment of the guest rooms and the ground level pub.
Interior stylist, Sibella Court, a global fossicker renowned for her eclectic fit-outs for inner city restaurants and bars, paid homage to the hotel's maritime roots. 'The design is inspired by the small trades of eras passed: the hand tooled, hand smithed and hand tinkered,' she enthuses.
The eight rooms, spread over two levels - four of which are suites with furnished balconies - all afford skyline vistas linking the airy shades of grey, white and blue within. Bathrooms incorporate old-fashioned fixtures with white tiles and marble; while floor-to-ceiling hand painted seascapes adorn walls. Quirks include light pull cords and rotary dial telephones, plus service bells located in the stairwell promising beverages when buzzed.
Downstairs, original mottled green tiles skirt the pub's walls and repurposed furniture and beer taps customised with antique tools add a vintage touch. The jewel in the Palisade crown however, is the rooftop bar which ushers in modern luxury. Hand-printed marbled wallpaper lines the entrance foyer leading to a spectacular brass bar and private salons, while upstairs, a sunlit lounge dotted with salmon pink sofas and dapper wait-staff beckons.
No prior experience in the hospitality industry has favourably leant owners entrepreneur Richard Sapsford and managing director Greg Walker, a fresh eye, resulting in a hotel that feels more like a private mansion, but with the five-star service expected from the hip advertising creatives from nearby offices, that come to sip on craft beers and fennel seed honey cocktails, as they tuck into salmon tartare from chef Dave O'Brien.
INFORMATION
ADDRESS
35 Bettington Street
VIEW GOOGLE MAPS (opens in new tab)