Casa Chabacana — Córdoba, Argentina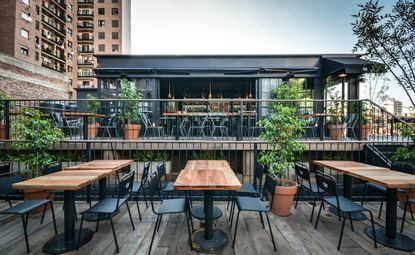 (Image credit: Gonzalo Viramonte)
When it comes to creating an immersive shopping, food and drink experience, few Argentines go to the extent that Emilio Bruno has repeatedly proved. His latest endeavour is Casa Chabacana, a compact collective space, in Córdoba's hip Guemes neighbourhood, that includes a bar, a tea time venue, two clothing boutiques, and a sex and plant shop where guests can experience a different vibe. 'I want to achieve an eclectic identity that resembles London's atmosphere, but transferred to our idiosyncrasies,' says Bruno on briefing his creative team.
Set within two conjoining houses from the 1950s and spread over two levels, the shop has been transformed by Abdenur Architects, a local firm who has enhanced the building's original features with vintage and salvaged materials while the overall look and feel, also in the same mood, was created by interior designer Luz Castellano, another native of Córdoba city.
The ground floor accommodates five of the six venues while the adventure continues upstairs where a rich, playful cocktail bar with an ample terrace, that offers a change of pace and welcomes the youthful crowd. Exposed brick walls, industrial style iron chairs, native wood floorings, pendant lighting and an eight metre long metal counter topped with white marble, creates intimate nooks in which to sample Chabacano´s signature drink, Agua de Valencia, an explosive concoction made of sparkling wine, orange juice, vodka, gin and sugar.
INFORMATION
ADDRESS
Fructuoso Rivera 243
PHOTOGRAPHY
Gonzalo Viramonte