Sacro — Buenos Aires, Argentina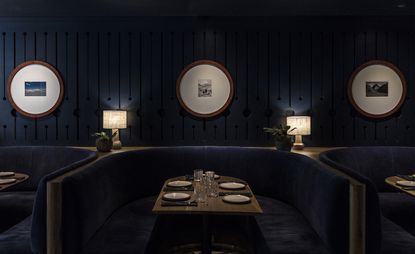 (Image credit: sacro.com.ar)
For his inaugural restaurant venture, entrepreneur Damian Harburguer's plant-based eatery, located in style conscious Palermo Hollywood, proposes an international approach to vegan food, with a slick menu of seasonal and organic local ingredients, strictly devoid of animal derivatives.
Majia concept studio, worked with Argentinian artisans and carpenters, creating bespoke chairs, native petiribí wooden tables and terrazzo floors made in situ. A makeshift screen of livistona chinensis plants in artisanal ceramic planters divides the custom-made carrara terrazzo bar and reception dining area. A revamped Porteño park bench with a Saltean Aguayo cloth backrest flanks the communal oak table. Order the exceptional fennel gin or a pear pisco at the bar.
Dark blue laser cut out motif screens create a pleasing backdrop to the intimate velvet blue booths in the central dining area. A global soundtrack mirrors the origin of each dish. Outside, the verdant patio area boasts a huge mural by Eloisa Ballivian.
The sharing options include the wafer thin dosa and stand out palta tikka, aromatic crusted avocado in a velvety smooth curry sauce. Don't miss the sublime 'Snickers' style salted caramel chocolate tart and avocado lime pie, rounded off with an almond milk cortado. Everything is made in house including the fresh coconut water available to go.
INFORMATION
ADDRESS
Costa Rica 6038
Palermo Hollywood
Buenos Aires
VIEW GOOGLE MAPS (opens in new tab)