Achille Salvagni shares his favourite travel destinations
We asked Italian designer Achille Salvagni for his top travel picks to inspire us for summer 2023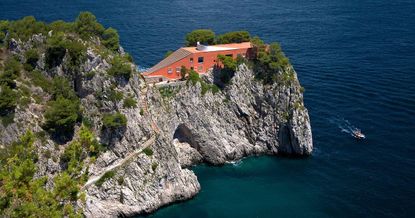 (Image credit: Courtesy Achille Salvagni)
Wallpaper* Newsletter
Receive our daily digest of inspiration, escapism and design stories from around the world direct to your inbox
Thank you for signing up to Wallpaper. You will receive a verification email shortly.
There was a problem. Please refresh the page and try again.
We asked Italian designer Achille Salvagni, whose Upper East Side townhouse features on the cover of the July 2023 issue of Wallpaper*, to pick his favourite travel destinations globally. Here, Achille tells us about his approach to travel and the places that inspire him.
From an early age, I have always had an interest in architecture and design and have an innate desire to travel and explore. I accompanied my father on business trips – he was responsible for building wineries – which opened my eyes. My first opportunity to travel extensively came after I graduated from the University in Rome and went on to study in Stockholm at the Royal Institute of Technology. The 14 months I spent there were among the happiest of my life – I felt free. I was fascinated by architects like Alvar Aalto, Erik Gunnar Asplund, and Sigurd Lewerentz and during my stay made a pilgrimage to Finland to visit all of Aalto's buildings.
Travel is one of my great joys in life and searching for what is not the most obvious. What is exciting is finding places that express pioneering ideas that are also rooted in history. I return to these places again and again, each time discovering something new.
ACHILLE SALVAGNI'S TOP TRAVEL PICKS
---
Villa Mairea by Alvar and Aino Aalto (Noormarkku, Finland)
Villa Mairea is one of the most impressive and important masterpieces designed by Alvar and Aino Aalto in 1939. I had the pleasure of exploring inside this home (now a foundation) to see firsthand the work of the master of functionalism. VM is considered one of the most important one-family homes of the 20th century. It is fascinating to see how Aalto is able to zoom in and zoom out with such nonchalance. It is with equal attention that he handles the design of a house and that of the design and placement of a screw. For Aalto, it is the 'detail of the detail' that matters.
Madrasa Ben Youssef and Majorelle Gardens (Marrakech, Morocco)
Madrasa Ben Youssef, Marrakech, is a historic Islamic school located in the heart of Marrakech, Morocco. Built in the 14th century, this madrasa was once the largest Islamic school in North Africa and is now a Unesco World Heritage Site. It's an impressive masterpiece of Islamic and North African design. The most striking feature is the contrast between the small, closed-in rooms where the students studied in silence and the courtyard that expressed the highest level of beauty, joy and freedom.
Originally created by the French artist Jacques Majorelle over a period of 40 years, and later restored by Yves Saint-Laurent, Majorelle is one of the most beautiful gardens in Morocco. It is enclosed by outer walls and consists of a labyrinth of crisscrossing alleyways on different levels and boldly coloured buildings that blend both art deco and Moorish influences. The colour palette is something you will never forget: the intensity of the bleu Majorelle, sunshine yellow, the greens and orange. In 1980, when Yves Saint Laurent and Pierre Bergé purchased the Jardin Majorelle to save it from destruction at the hands of hotel developers, they realised the artist's plan, going much further, recreating this enchanting garden oasis that thrives in the middle of bustling neighbourhood.
MASP by Lina Bo Bardi (São Paulo, Brazil)
Founded in 1947, The Museu de Arte de São Paulo (MASP) was the first modern museum in the country. Lina Bo Bardi, who conceived the architecture and the exhibition design, embraced the principles of modernism to design public buildings that remained connected to Brazil's past.
The museum, designed using glass and concrete that seems to float in mid-air, is a work of art itself. It is a landmark of modern Brazilian architecture and the finest example of brutalism. To see this large main glass building suspended over two large concrete beams is breathtaking. Knowing the emphasis and importance Bardi places on community, she designed the space underneath as a public plaza.
Villa Malaparte by Adalberto Libera (Capri, Italy)
Villa Malaparte, built for writer Curzio Malaparte in 1938 by the Rationalist architect Adalberto Libera in Punta Massullo on the Isle of Capri, is considered one of the best examples of Modern Italian architecture. The house, a red structure with inverted pyramid stairs, sits 32m over a cliff on the Gulf of Salerno. It is completely isolated from civilisation, only accessible by foot or by boat. I have visited this villa several times and I remain as intrigued as ever with Libera and Malaparte. It remains a timeless masterpiece of architectural design, showcasing the skill and ingenuity of its creators. It reflects the highest level of compromise between classicism and modernism. It's one of the most intriguing places you will ever see; it does not fit any one style and instead blends numerous influences, which makes it a source of fascination for many.
Il Girasole (The Sunflower) by Luigi Moretti (Rome, Italy)
Il Girasole, which translates to the Sunflower, is an apartment block in Rome that receives its name from the way the building seems to fan out the way a flower's petals reach for the sun. It's a reinterpretation of Greek tradition made by optical distortion and illusions.
The building's lobby features a floating staircase with an opening at the top where light streams down. Luigi Moretti references a baroque style to shock the visitor through compression and expression. The notion of the undefined and the in-between in Moretti's work is what captivates me.
Olivetti showroom by Carlo Scarpa (Venice, Italy)
The architect Carlo Scarpa is one of my heroes and the Olivetti Showroom in Venice located in the Piazza San Marco showcases his genius as an architect and as a leader in exhibition design. He created the most amazing way to display the Olivetti typewriter elevating the commercial product to the level of artwork. Thanks to the precise control of Scarpa's design, architectural modernity and Venetian tradition coexist with great harmony. The display fixtures used to showcase the Olivetti products are works of design themselves. These pieces are often more interesting than what they were designed to show. It is ingenious how he could present an old piece in the most modern way.
Receive our daily digest of inspiration, escapism and design stories from around the world direct to your inbox