The striking new MG Cyberster is the world's first all-electric roadster
MG is going back to its historic sporting roots with the MG Cyberster, a convertible sports car that ushers in a new market sector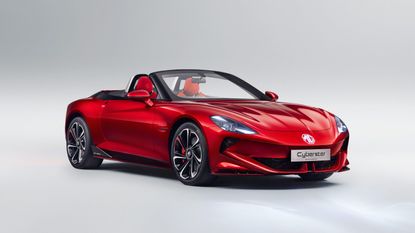 (Image credit: MG)
Remember the original MG? The British carmaker of small and affordable, fun-driving roadsters like the 1960s and 1970s MGB and 1990s MG F? Well, after near collapse and then decades in the doldrums, it's back and thriving. The brand has just taken the wraps off its new all-electric roadster – the MG Cyberster – designed in its London studio and brought to production readiness courtesy of the financial and logistical clout of Chinese parent company SAIC.
MG Cyberster all-electric roadster
With dramatic supercar-style scissor doors, an electric powertrain capable of 0-62mph in 5.0 seconds and a predicted range of 300-plus miles, the two-seater is due on sale in 2024 for under £45,000. That timeline trajectory is set to give the formerly also-ran brand a genuine unique selling point as the world's first ground-up, all-electric roadster to go into production (if we discount Tesla's early 2000s, short-production run two-seater, heavily adapted from a Lotus Elise).
The full-size Cyberster model unveiled in MG's London studio keeps all the design cues often associated with a well-proportioned sportscar, namely a gently forward-sloping long bonnet, cab-rearward stance and a truncated rear.
It's bigger than the old MG F by some margin in all directions, but its designers have managed to keep the Cyberster's height low – only 25mm higher than its contemporary, combustion-engined BMW Z4 rival – despite having to package a sizeable set of batteries between its two axles.
Some of that extra height has been 'hidden' via a few visual design tricks too, most notably in the black-coloured bodywork band running along the window line before widening as it wraps around the rear of the car. This makes the red-coloured section of the body side lower, and helpfully alters the perception of the car's overall proportion.
Distinctive front and rear light signatures and a smart cockpit-style interior – available with a yoke-style steering wheel and three sizeable landscape-oriented screens – add to the modern take on this classic vehicle typology, although a full-rim steering wheel with a likely altered driver display will also be options. Shown as an electrically-powered soft-top, the Cyberster may spawn a hardtop version in time too.
The Cyberster's 2024 on-sale year is also significant, coinciding with the 100th anniversary of the start of the marque, which can trace its roots to Morris Garages and the MG octagon logo registered as a trademark in May 1924. But MG is firmly facing the future now.
In 2022 it sold nearly 60,000 cars in Europe and is predicted to double that figure in 2023, with its critically acclaimed MG 4 crossover set to become its best-seller. For context, MG currently stands 11th in the UK brand sales charts, in front of Skoda and just behind Mercedes.
'This vehicle had a lot to live up to,' says advanced design director Carl Gotham. 'We wanted to create a car that could do justice to the MG badge.' With the Cyberster, Gotham's team has done just that and MG would seem to have refound its mojo.
MG Cyberster, coming soon, further details at MG.co.uk
Guy Bird is a London-based writer, editor and consultant specialising in cars and car design, but also covers aviation, architecture, street art, sneakers and music. His journalistic experience spans more than 25 years in the UK and global industry. See more at www.guybird.com