Aston Martin Vantage Roadster offers a swift route to open skies
The Aston Martin Vantage Roadster whips its top down in just 6.7 seconds, all the better to enjoy a final, joyous fling with combustion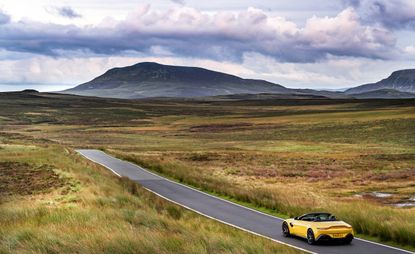 (Image credit: astonmartin.com)
Aston Martin thinks it's got a pretty good handle on the future. Its first mid-engine machine, the Valkyrie hypercar, is mere months from being delivered to eager customers, and its more 'affordable' but no less dramatic sibling, the Valhalla, recently broke cover (opens in new tab). The DBX, the company's first ever SUV (opens in new tab), is selling well and clawing back crucial market share. That leaves Aston's traditional core product, sports cars, next in line for revolution.
But not so fast. The brutish bravado and old school elegance of a two-seater, front-engined grand tourer is not the place for radical change. At least, not yet. The Aston Martin Vantage (opens in new tab) marked its third year in production with an edition celebrating the company's new focus on Formula 1. The Aston Martin Vantage F1 Edition takes its styling cues from the official F1 Safety Car (an Aston Martin for the first time ever) and boasts boosted power and a more extreme aero kit than the 'standard' car. It is hardly revolutionary, designed to quicken the pulse, not usher in change.
Aston Martin Vantage Roadster: a visceral pleasure
The company also launched a Roadster version of the Vantage early last year, following its traditional pattern of releasing open-topped variants after their coupé siblings. That launch was delayed, cancelled and somewhat side-lined by the global situation, so instead of experiencing the car on the open desert roads around Palm Springs, we've had to contend with the B-roads of Britain in the early summer, with a sky full of bruised and brooding clouds. The latter don't offer nearly as much opportunity to get the top down, although we should note in passing that the roof mechanism is one of the fastest ever fitted to a convertible, taking just 6.7 seconds to lower (without needing stop the car).
There is a very visceral pleasure generated by driving this car. Aston Martin has always managed to balance the often-conflicting desires of the heart and the mind; other cars might be faster or slightly quicker round a track, but without the presence and mystique of an Aston. Conversely, if they do manage to bring a matching ambience, they inevitably can't match the Vantage's impressive technical ability. It's a car designed for a world where driving is still predominantly a pleasure, never a chore. In fact, the Vantage Roadster is usually capable of elevating even the most mundane automotive errand into something special.
However, the Vantage Roadster is still very much an Aston Martin of the old school. Regardless of the sophistication of its Mercedes-AMG-sourced engine, or the extremely impressive quality of build and materials, it has more spiritual affinity with the big, brutish machines the company was building in the 1970s and 1980s than the lithe, electrified sports cars of tomorrow. There's a lot of nostalgic, end-of-era activity going on in the auto industry right now, as big engines take their final bow and shaken-up sectors seek reinvention for the electric age.
Waiting in the wings is Maserati's all-new GranTurismo, a car that is boldly debuting as a pure electric model (although a hybrid is also in the works). If Maserati has the gall to banish the V8 from what is currently its most characterful and raucous model, then Aston Martin will have no choice but to follow suit. The British company has already hinted that the next iterations of its GT sports cars, the DB11 and Vantage, will be predominantly electric, although they're not due until 2025. Next year, there'll be substantially uprated versions of each model, effectively marking the start of this twilight period of opportunity and uncertainty. For a start, the sinuous muscularity that defines an Aston Martin will take on whole a new meaning when the power no longer comes from combustion.
Aston seems to be pushing its mid-engined range as the place to make really bold statements, starting with the aerodynamically driven insanity of the Valkryie. In comparison, the company's sports and GT cars are more traditionally elegant. The Vantage Roadster's introduction was accompanied by subtle styling tweaks, most notably a new grille to soften the 'open mouthed' look of the original car and hark back to Astons of old. The interior is probably where the Vantage needs more of a boost. Happily, given the extent and depth you can customise an Aston Martin, there's every opportunity to bring a bit of tasteful harmony to its rather fussy composition of forms and surfaces. That's not to say it doesn't help direct your attention to the road ahead, but as it stands its not calm or especially functional.
Will we miss the snap, crackle and pop of a big engine? It's fun to make a lot of noise with your right foot, but outside of a racetrack or an illicit supermarket carpark car meet, no one else is sharing the joy. Electric cars have proven they can start, stop and accelerate as well as any traditional car. The only thing that's missing is the soul. Although the Vantage Roadster provides a final, joyous fling with combustion, we're confident that Aston Martin will ensure its successor still has a spiritual side.
INFORMATION
Aston Martin Vantage Roadster, from £126,920
Read more Wallpaper* articles about Aston Martin
Official website: astonmartin.com (opens in new tab)
Jonathan Bell has written for Wallpaper* magazine since 1999, covering everything from architecture and transport design to books, tech and graphic design. He is now the magazine's Transport and Technology Editor. Jonathan has written and edited 15 books, including Concept Car Design, 21st Century House, and The New Modern House. He is also the host of Wallpaper's first podcast.