Aston Martin Vantage shows its true colours with a 2018 newcomer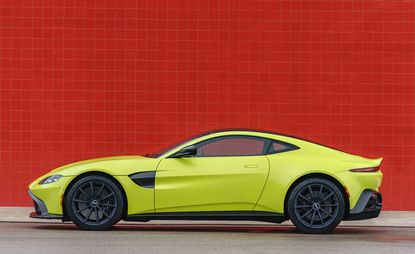 (Image credit: Aston Martin)
An onomatopoeic description of the experience of driving the new Aston Martin Vantage driving experience would be filled with roars, bangs, pops and exclamation marks, such is the visceral and primal immediacy of this V8-powered two seater sports car. The Vantage model is a now staple of the Aston Martin line-up, a name first introduced 70 years ago to signify a special high-powered model but which eventually evolved into a standalone car. The last time an all-new Vantage debuted was back in 2005 and its longevity was a testament to the enduring power of the design.

The new Vantage deviates slightly from the timeless beauty of its predecessor. That's not to say it's unattractive, but it's certainly cut from a very different cloth. Aston Martin are making great capital of the new Vantage's supposed animalistic qualities, stressing an aggressive, muscular character instead of a svelte elegance. The comparison isn't too off the mark, for there is definitely something hunched, primal and faintly lupine (or even shark-like) about the Vantage's form. It's all facets, nips, tucks and ducts, with grills and vents treated like deep incisions or slashes in the bodywork. The familiar Aston grille has evolved into a frontage-swallowing maw, inspired by Aston Martin's Vulcan track car and the Bond-only DB10, but also tweaked for simplicity of form and aerodynamics. It's all a welcome departure from a (very) familiar design language, one that emphasises the difference between Vantage and the larger, softer DB11.
Vantage owners will treat this car as if it was somehow alive and kicking, not just an empty vessel for everyday transportation. Character is an important quality in a luxury sports car. Most manufacturers hope they can hark back to the long-standing romantic notion of the sports car, that of a beast to be tamed in order that you might feel some closer connection with, so that every journey becomes a battle that ultimately flatters the victor. Most modern high powered cars will scare the unwary or the inexperienced, but very few will tempt you to the edge and let you throw yourself over it. The Vantage is one such car, a machine that can be driven at 75 per cent capacity and still make you feel like you've won Le Mans. For most of us, that feels just about right; the combination of bellowing sound, direct, fluid steering and utterly composed road manners will have you hunting out tighter and tighter corners, or discovering overtaking opportunities that previously just weren't there.

The final 25 per cent is only for the brave. On the track, the Vantage's innate ability was frustrated somewhat by unseasonably wet Portuguese weather (and the accompanying slicks of water that turned the straight into a reflecting pool), but the balance and poise that come from a well-engineering race car enabled you to push far faster without the danger of any sudden loss of control. The Vantage is an undeniably quick car, but we live in an era of ludicrously powerful machines; bragging contests are over. Aston has clearly decided to hold back and not infuse the Vantage with so much lurching thrust that you struggle to put any of it down on the ground. You can make it scream if you so desire, or whisper (sort of), thanks to a 'quiet start' mode that does away with the theatrically loud squawk of the exhausts.
That decorum is occasionally necessary, for this is also a luxury car, with the ability to cruise in comfort without rattling windows and waking babies. The interior also abandons the wood and leather of Aston's past in favour of a more angular approach that puts functions at your fingertips, rather than buried beneath a pile of menus. Although there's plenty of technology at work, the Vantage still has a very analogue character.

If all goes according to plan, the new Vantage won't have nearly as long a lifespan as the car it succeeds. This is a good thing. Aston Martin is on a quest to build sales and expand its range and has a number of new models signed off and waiting in the wings. Seven cars will be launched over a period of seven years, all designed to do very different things. When that cycle completes, it'll be time to start again and introduce next generation models. The Vantage remains the 'entry level' car in the range and for many people – us included – the quintessential Aston Martin driving experience.
INFORMATION
For more information, visit the Aston Martin website (opens in new tab)
Jonathan Bell has written for Wallpaper* magazine since 1999, covering everything from architecture and transport design to books, tech and graphic design. He is now the magazine's Transport and Technology Editor. Jonathan has written and edited 15 books, including Concept Car Design, 21st Century House, and The New Modern House. He is also the host of Wallpaper's first podcast.