Vodafone, Disney and Yves Béhar join forces to create new children's smartwatch
A new collaboration has launched between Vodafone, Disney and Yves Béhar's studio FuseProject. The goal? To create the world's best smartwatch for kids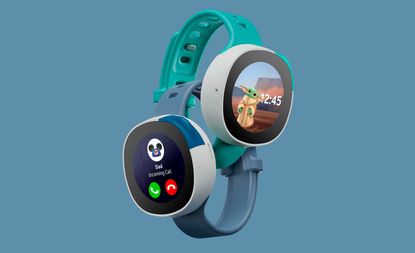 (Image credit: vodafone.com)
'To redefine what it means for parents to support their kids without being intrusive was the main experience and design challenge,' says Yves Béhar. But why now? 'Parents are facing a new tension – kids are wanting more freedom and independence while parents worry about their safety and crave moments that allow them to be part of the child's journey,' says Tom Guy, Vodafone's Smart Tech chief product officer. Béhar adds: 'In a world more connected than ever, we focused on better understanding how parents are looking for new ways to stay in touch with their children — protecting and monitoring them as they approach their preadolescent years.'

Guy describes the Neo watch as 'a new way to connect that could both reassure parents and empower kids.' Having worked with Béhar previously (notably on the development of Hive) and also Disney earlier in his career when he was in the gaming industry, Guy says: 'Yves shares my belief that tech shouldn't exist just for the sake of tech but actually improve everyday living.' Béhar concurs. 'When designing with technology, I am interested in bringing solutions for the aging, the young, and people with health and wellbeing needs, rather than another entertainment gadget for the comfortable middle part of life.'
So, what does Vodafone's Neo smartwatch actually do? Before the prototyping started, the collaborators consulted children and parents across the EU to better understand the needs of their audience. 4000 interviews later, the answer was clear – parents wanted a smartwatch that addressed their existing frustrations with tech; an experience to keep children entertained (note the outward-facing high-resolution 5MP camera, activity tracker and Disney characters), but with parental controls for safety and reassurance (que the tracking app and ability to make calls and texts).

A child-friendly quick call button can be held down for five seconds to ring a family member; the angled watch face improves viewing; and the customisable strap is secured by a simple loop and buckle design. As well as the hardware, Neo also features a simple, frictionless software experience from Vodafone and Disney's world class designers.
Notably, the watch intentionally blocks access to the internet or social media – to assuage parental concern around internet safety and over-stimulation. An accompanying Vodafone Smart App allows parents to view the watch's location, personalise and monitor its circle of trusted contacts, and manage screen time through a 'quiet mode' setting. There's a monthly subscription fee and all contacts have to be pre-approved by the parent, or guardian, before they can be reached.

It's been subjected to Vodafone's Secure by Design process – rigorous security testing by professional and external ethical hackers as well as physical testing like temperature tests. Plus, if the watch is lost or stolen, it can also be wiped remotely through a factory reset.

'Neo is built for parents with young children aged between four and nine who want to use technology to help them save time, but also for children between six and nine who want a fun and exciting way to feel more independent,' says Guy. A father of two teenage girls, he adds, 'When they were younger, I would have loved to have had something that they could play around with emojis on, and send me messages through, while allowing me to know exactly where they were. I think that has the potential to create some really special moments for a lot of younger families now, and to give a kind of reassurance I could only have dreamt of when they were kids.'
INFORMATION
Tilly is a British writer, editor and digital consultant based in New York, covering luxury fashion, jewellery, design, culture, art, travel, wellness and more. An alumna of Central Saint Martins, she is Contributing Editor for Wallpaper* and has interviewed a cross section of design legends including Sir David Adjaye, Samuel Ross, Pamela Shamshiri and Piet Oudolf for the magazine.