Apple's glowing glass sphere is the newest spectacle on Singapore's skyline
Designed by Foster + Partners, the new Apple Marina Bay Sands store, due to open on Thursday, is a self-supporting dome entirely surrounded by water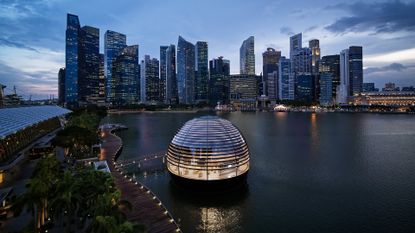 (Image credit: press)
Physics loves a sphere, its preferred, purest form. For architects though, the box trumps the bubble. They're easier to engineer and offer more useful space. The new Apple Marina Bay Sands store in Singapore goes with the physics. And, if not actually a complete sphere, it's near enough to be considered a daring piece of architectural chutzpah.

Designed by Foster + Partners – the architects behind the Apple Park HQ building in Cupertino and many of the tech giant's flagship stores – the new outlet appears to be a giant ball, floating if not bobbing in Marina Bay. The structure is actually a dome, 30 metres in diameter, 17 metres tall, made up of 114 glass panels and sitting on an existing concrete foundation.
'It's sort of an igloo,' says Stefan Behling, Senior Executive Partner at Foster + Partners. 'It's all structural glass with very thin, polished stainless steel ribs, which seem to dematerialise. And obviously no columns, which more or less goes without saying these days. You won't find anything with a more delicate structure, probably in the world.'

Engineering the structure was tricky enough, but Foster + Partners spent as much time and effort engineering the experience it creates. 'Let's just say it's a glass bubble,' says Behling. 'But if it was just that it would be too hot, too bright, too noisy. Not the right thing. The idea was that to come into a space was like living in a daylight light fitting.'

Crucial to the control and regulation of light inside the store, Apple's third in Singapore, are a series of interior baffles, smaller versions of those on the exterior of Apple Park but doing a similar job. These triangular wedges are arranged into horizontal rings that get smaller as they progress up the sides of the dome and provide shade but also bounce light upwards. 'You see the same effect at Apple Park,' says Behling. 'Light bounces off one baffle to the underside of the one above. And the effect is really astonishing.'
The effect within the Marina Bay store, continues Behling, is a natural, 'magical diffused light' that feels congruous with the diffused light common to Singapore. 'We've been saying for years that the best way to see the product is actually to see outdoors.' In fact, Behling hopes that being inside the store should feel like being outside, only better, given the air conditioning. (And, he admits, air conditioning was unavoidable. 'I'm obsessed with natural ventilation but in this part of the world you just can't do it.')

The baffles, filled with foam and coated with fabric, serve another function; smoothing out what could have been disturbingly harsh acoustics. And the effects of the baffles on sound and light, as well as issues of larger structural soundness, were, says Behling, 'obsessively modelled' on computers and then tested with full-scale mockups.
Far simpler to model was the path of a disc of light created by a Pantheon-style semi-transparent three-metre-wide oculus at the top of the dome. 'I can tell you exactly where that splodge of light will be at any time on any day of the year.'

The store's diffused glow should be a pull, not just from the waterfront, connected to the store via a footbridge, but also from below. That underwater concrete foundation actually houses the store's lower floor and links to an entrance within the Marina Bay Sands shopping mall.

Reaching the bubble from the basement requires two escalators and Foster + Partners have worked on making that journey as theatrical, in a controlled Apple way, as possible. 'There is this really dramatic sequence,' says Behling. 'You come into quite a compressed store in the lower level, which has the display tables which feel familiar. But then you realise there's a glow at the end. And you see these escalators which travel through a quite magical polished stainless steel tunnel which creates a crazy kaleidoscopic effect and then you enter this very spectacular space. It's definitely not a store where you will say, "yeah, I've seen that before".

And if a giant glass ball could come-off as extravagant and a little show-offy, it is intended to add something a little calmer to the cluttered and chaotic Singapore skyline. 'We always say that with the stores we design from the inside out,' says Behling. 'That the most important thing is the product, people interacting with the product and making that a great moment. But there was also a huge responsibility here to be a new feature on the Singapore skyline. It's a super pure shape but there's an enormous amount of innovation and complexity involved.'
INFORMATION
Apple Marina Bay Sands opens on Thursday, 10 September 2020. Visits on opening day will be by appointment only, customers can visit apple.com/sg/marinabaysands to choose from available times
ADDRESS
2 Bayfront Avenue, B2-06, Singapore 018972