Things are getting fresh at a unique French-Japanese deli on the Basque coast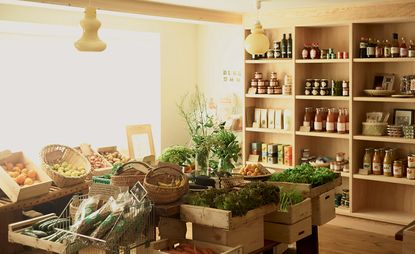 (Image credit: Cédric Bihr)
Yaoya is a modern-day multistore with a difference. In Guéthary, a fishing village near Biarritz in the Basque region of southern France, it mixes groceries, homewares, coffee and clothing sourced locally and from Japan. It's a combination that suggests the keen curatorial eye of a creative professional from a progressive urban 'hood, while the community-building ambition of the store roots it in its village environment.

The eyes and brains behind Yaoya are photographer Cédric Bihr and his designer wife Aï. After a decade working in Paris, Los Angeles and New York, the couple were looking to escape the clamour of city life and build a wholesome base in which to raise their young child. Their search led last year to Guéthary, now a low-profile haunt of the local surfing community, a place they had spent time in together and where they got married. Falling for a property that could double as a home and store, Aï, who is from Tokyo, and Cédric, a Pyrenean, decided to combine their cultures with that of the unique coastal region and launch a store offering the community exceptional local and artisanal products à la Basque et Japonaise – things that are gentle for the environment, for bodies, and for pockets.

They spent a year travelling the Basque country and the Pyrenees, tasting food at organic farms and markets, searching for high-quality products. The bread offering was chosen after Aï passed out at a local market and was revived with a morsel of sourdough. The Bihrs invited the maker, local Bertrand Ducauroy, previously a pastry chef at the Michelin-starred Lasserre in Paris, to produce their daily bread, which undergoes a unique 48-hour fermentation process with Basque Akerbeltz beer. Yaoya has pre-orders for his sourdough bread, which often sells out before noon. Other produce now on the shelves includes rich, citrusy floral honey from the Pyrenees that Cédric grew up eating, and handpicked, sweet-tasting fennel from the local farmer Alatz Elcano (the couple work on Elcano's farm, Amizolako Landa, twice a week, in order to purchase the produce cheaply and offer their customers kinder prices).
Cédric and Aï Bihr in front of their deli, Yaoya, in Guéthary, France. 'Yaoya is a place where we hope to bring healthy inspiration to everyday life,' says the couple. 'Our job is to research, taste, grow, wait and establish a price that the majority of our community can afford. Every choice reflects our beliefs; it's a vote towards something caring.'
While the couple trawled the region for wares with heart and soul, in Japan, Aï's father researched artisanal products to be sold in the store, travelling to meet local producers in person to learn about their processes. Yaoya sells artisanal Japanese seaweed, rice, and homemade miso created by Aï herself alongside handcrafted household items such as Japanese donabe, a clay pot used for stewing and steaming food.

Every item on sale in the store earns its place. Even the store's name, Yaoya, works hard: in Japanese, 'yao' means '800' and 'ya' means 'shop'. Historically in Japanese culture, the number 800 was used to express large quantities of vegetables, or anything collected under the same roof; it was believed that all things embody spirits and should be considered with great care. It's a philosophy the Bihrs followed closely.

Like the products, the store design is simple, warm and full of personal details. It includes a wooden work table as its centrepiece that once belonged to Cédric's father, alongside flooring and furniture in beautifully imperfect untreated pine, and a sliding door (characteristic of Japanese homes) that unveils the Bihrs' own workspace. The design allows customers to view their ongoing creative projects: Cédric is an established photographer, and Aï, a freelance designer and consultant, is the Glenstone Museum's art director and designer. Yaoya is their passion project. 'It didn't have to be an épicerie,' says Aï, 'it could have taken another form. The shop is just a symbol for community. It represents something bigger for us.' §

As originally featured in the September 2018 issue of Wallpaper* (W*234)
INFORMATION
For more information, visit Yaoya's Instagram
ADDRESS
Yaoya organic deli
251 Avenue du Général de Gaulle
Guéthary