Snowmobile: we take the new ​VW Tiguan for a spin in Lapland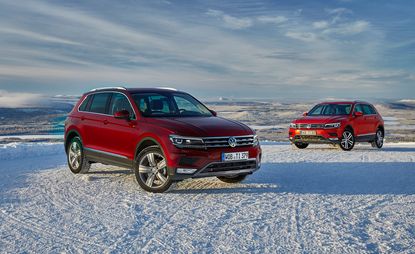 (Image credit: Volkswagen)
We are in the heart of Swedish Lapland about to test a pre-production Tiguan. Volkswagen technical experts are at hand, eager to guide us through the capabilities of this compact SUV. The four-wheel-drive boasts pretty decent off-road capabilities that, we are told, can handle routes as tough and rough as the ones through this frozen landscape.

To be convinced, we have taken a train, two planes, hopped on and off a number of shuttles, and endured temperatures of -20°C. And it is working. With its responsive engines and finely balanced chassis, the Tiguan handles these icy roads confidently. The car, we discover, has the flexibility to be both city and country transport, all wrapped up in the most discrete of attires.

The Tiguan is a modest conception. It isn't striking at first glance, and you would possibly miss it if it were to drive past you on a busy road. Yet it is exactly what it advertises: a mid-size SUV that is intelligently constructed, wisely designed, safe to inhabit, effortless to drive and economical to own. It is, in other words, the perfect car for a small family.

The Tiguan is also capable of some real life off-roading, in the unlikely event that anyone should so desire (like all modern 4x4s, sometimes knowing that it can is enough). European carmakers have been coming to Arvidsjaur since 1967 to test their vehicles in the development stage, and the town remains a popular spot thanks to its ice proving ground, frozen lakes and abundance of open road driving. We spot numerous other cars being tested, many in pre-production camouflage.

Following a spot of ice driving, we head out on to an open road of extraordinarily beauty, seduced by the pristine whiteness of the vision before us, with fluffy snow covering every leaf on every tree to form magical sculptural shapes. The Tiguan's quiet cabin allows us to cruise in near silence, absorbing the raw beauty of the landscape.

This is Volkswagen's second-generation Tiguan – the first car was produced in 2007 – and much of what you see is brand new. It has undergone a complete redesign to be a longer, wider and lower vehicle for a more athletic stance on the road. It looks more elegant, with optional LED headlights, and, depending on the equipment line, a chrome strip running across the front of the car. This, coupled with the distinctive character line that runs the side length, emphasising the higher waistline, contributes to an altogether more stylish Tiguan.

This new car is a more practical proposition too, with a roomier cabin and increased cargo space by 145 liters to 615 litres – a healthy 1,655 with the rear seats down. Eight engines are on offer with power outputs ranging from 85kW/115ps to 176 kW/240ps. Despite the power increase, VW says they are up to 24 per cent more fuel-efficient than those of the previous model with Euro-5 engines. What's more, the new 4MOTION Active Control system makes it easier to individually adapt the all-wheel drive to extreme driving conditions.

The Tiguan might not be a heart-stopper, but it exemplifies the best of modern platform engineering. VW's modular transverse matrix (MQB) platform underpins it all (it also forms the basis of the Golf). This is the first SUV in the VW Group to benefit from it and its flexibility allowed the team to configure a practical crossover with sporty credentials, saving weight and fuel consumption (as well as development time).

Some two million Tiguans have been produced to date and VW has high hopes for this latest car. It's a boom market: compact crossovers are in rising demand with forecasts predicting around nine per cent growth within two years. The Tiguan family will expand to include a longer wheelbase derivative and an even smaller VW SUV is on the horizon.
INFORMATION
From £23,000, on sale May 2016. For more information, visit Volkswagen's website
Photography courtesy Volkswagen