Water sports: Tokyo's newest fitness centre and spa blends public with private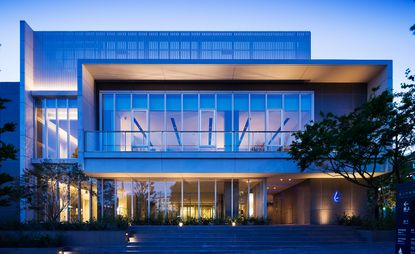 (Image credit: press)
Hemmed in by a busy highway, apartment buildings and small houses, it's hard to believe that the steep hillside where the recently rebuilt Aqua Sports & Spa member's club now sits was once home to a Tokugawa country estate. In days gone by it offered a spectacular view of Mount Fuji, onsen springs and rich forests; now only hinted at by the large pockets of trees that sit to the east and west.

Inspired by the dramatically changing landscape, Los Angeles architect Christopher Coe of Coe Architecture International set out to build a facility that would recreate an ancient sense of calm in the midst of its frenetic present day surroundings. 'Although a private club, our intent was to create a transparent building with a welcoming and public presence, one with a serene and refined demeanor in sharp contrast to the chaotic surroundings of Tokyo,' says Coe.

Spanning six storeys and 6,000 sq m, the facility comprises a series of stacked white and grey concrete volumes that follow the line of the hillside. Conceived to conserve natural resources and significantly reduce reliance on outside power generation, the building carefully balances Eastern and Western design sensibilities.
While the cafe and lounge on the third floor are oriented east–west, taking in the tree-top views, the glazed facade of the pool and gym runs north–south, level with the busy highway. 'The pool is the most singular and "Western" of the building's spaces with the function and its space being completely interdependent,' explains Coe of the design. 'However, the introduction of the large windows allows the enclosed space to "leak" or flow freely to the exterior, breaking down the spatial definition of inside and outside, which is more akin to Japanese space. At night the dramatic interior lighting glows through the windows, creating an advertisement for the club more effective than even the most colorful neon signage seen in Tokyo.'

However, it would seem that the club is no need of advertisement. Fitness fanatics tempted by its private 50m swimming pool (the only one of this size in greater Tokyo), its gym, outdoor terrace, spa lounges and Japanese baths fed by onsen springs, will need to sign up to the waiting list – which is currently just over a year long.
INFORMATION
For more information, visit the Aqua Sports & Spa website