The Young Turks at the Ten Bells, London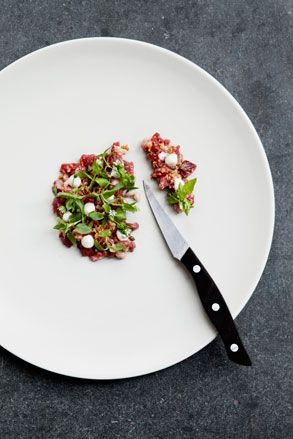 (Image credit: P.A. Jorgensen)
They have suitably slam-dunked the London underground supper scene over the past year with their experimental takeovers of urban locations around the capital, and now creative British food champions the Young Turks (opens in new tab) are breaking their autumn hiatus with a three-month residency at the Ten Bells (opens in new tab) pub in Whitechapel that runs until 29 January.
Comprising James Lowe (former head chef at St John Bread & Wine (opens in new tab)), Isaac McHale (ex development chef at The Ledbury (opens in new tab)) and Ben Greeno (opens in new tab) (currently away headlining the kitchen at Momofuku's new Sydney outfit) - the Young Turks are a group that have put laid-back dining at the forefront of their culinary convictions. For the Ten Bells set-up, McHale and Lowe have roped in frequent collaborators and supper club specialists Daniel Willis and Johnny Smith of London-based Clove Club (opens in new tab).
'We wanted to do something collaborative and fun that would expand on our reportoires and give us a chance to do something that we wouldn't normally be able to do', says McHale. This 'fun' means a weekly-changing set menu and a focus on lesser-used produce: cakes and biscuits made from berelean grains (grown on Orkney island, where McHale is from), unusual varieties of vegetables sourced from independent growers, and daunting meat cuts such as chicken hearts and cheeks are all in the mix. But McHale is quick to insist this isn't about shock value. 'If they taste great and they're being under-used, then it's a chance for people to check them out.'
Jack the Ripper associations aside (the serial killer frequented the pub and purportedly murdered two of its patrons), the bohemian feel of Ten Bells and the relaxed nature of the residency seem the perfect fit for a young collective keen to make its mark on the restaurant ladder, without having to pander to investor control (expensive lease costs make it impossible for most young chefs to do this on their own). The whole venture has echos of Fergus Henderson's (opens in new tab) takeover of the French House (opens in new tab) pub in Soho, before he co-founded the growing empire that is St John.
Concludes McHale about the project: 'It's all about doing something a little bit different from the norm, about pushing British food in a different direction.' And with its fuss-free, £39 four course menu, coupled with no return time on tables, it's a departure to welcome.
The Young Turks put laid-back dining at the forefront of their culinary convictions. During Isaac McHale and James Lowe's time at the Ten Bells, patrons will be able to sample a weekly changing set menu built on lesser-used British produce
ADDRESS
First floor, Ten Bells
84 Commercial Street

London E1 6LY
VIEW GOOGLE MAPS (opens in new tab)