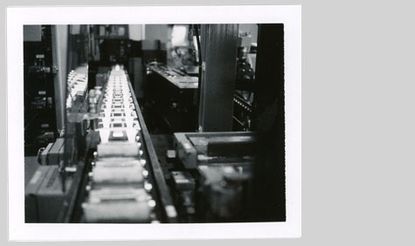 (Image credit: press)
Back in W*115 we bade a fond farewell to everyone's favourite instant snapper, Polaroid, as the factory closed its doors in favour of going digital. Now it seems we may have been a little hasty.
The ominously named company, Impossible (named in homage to Edwin Land the inventor of instant photography's quote: 'Don't undertake a project unless it's manifestly important and nearly impossible') has picked up where Polaroid left off. Made up of a collective of former workers, it actually seems very possible indeed that they'll get instant film back in our cameras again though.
Take a trip through the deserted rooms and machinery (opens in new tab)
Impossible has bought all the machinery and equipment in Polaroid's Dutch factory where the instant films were made. They've signed a ten-year lease on the factory itself, based in Enschede and they've started The Impossible Project - a mission to re-develop Polaroid instant film in a more modern capacity to be used in vintage Polaroid cameras, albeit with production scaled down to producing around 3 million films a year, aimed at an artistic rather than mass market.
With production due to restart in 2010, there's enough time for anyone silly enough to have thrown out their old Polaroid camera to trawl through the local charity shops and find a new one.