Visual feast: tracing Fortnum & Mason's rich culinary and illustrative history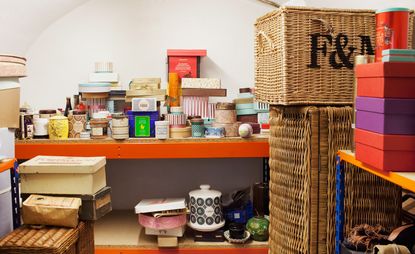 (Image credit: Jessica Klingelfuss)
Founded over 300 years ago, Fortnum & Mason is bound to have amassed a few treasures and accolades along the way – the most recent, a Wallpaper* Design Award for its first-ever cookbook (below). So to Piccadilly, where Fortnum & Mason's grandiose space is not only home to lavish gourmet spreads, but to a trove of historical riches nestled away in an unassuming (and secretive) bunker-like space.
Here, the upscale department store's three-century history practically spills out as you enter, although there is a sense of order to the seemingly endless piles of ephemera, packages and trinkets. A far cry from the immaculately presented goods on its shop floors, this clandestine Aladdin's cave paints a lively picture of the bastion of (normally) meticulous merchandising.

The gatekeeper of the brand's annals is Dr Andrea Tanner, Fortnum's long-time archivist. While the archive isn't open to the general public, Fortnum's 'throwback Thursday' posts on Instagram are a good place to start, Dr Tanner suggests. The artefacts she collects chart the fascinating history of a pioneering brand, the latter descriptor being most apt – at one time, Fortnum's had an expedition department that sent travellers to the plains of Africa and the peak of Everest.
Aside from gastronomic delights, Fortnum's is celebrated for its memorable collaborations with illustrators, artists, letterists and set designers, which began in the 1920s. Its signature colour, 'eau de Nil' (water of the Nile), is a striking turquoise-y affair that marks only its most special products, while the store has also commissioned original typefaces. ('Typography is one of our passions,' Dr Tanner says.) So how does the retailer remain relevant after three centuries? 'You have to constantly innovate,' she continue. 'You can't betray your core values – or rest on your laurels.'
Appropriately the emporium has published its first-ever cookbook, jam-packed with famous recipes – the Fortnum-invented Scotch egg included. The tome pays tribute to the brand's past, and is peppered with archival illustrations by Edward Bawden and WM Hendy, and looks to its future with a smattering of appetite-whetting photography by David Loftus (shot on location at 181 Piccadilly, behind a shop hoarding on the third floor).

Here are five illustrators who have helped shape the brand's visual identity…

Edward Bawden (1903–1989)
One of Fortnum's best-known collaborators, Bawden was a shy, retiring artist who was in some ways the antithesis of Fortnum & Mason (as the story goes, the artist once suggested offering charcoal biscuits and water to guests at a 'gloom party'). Nevertheless, Bawden produced some of his most memorable work for Fortnum's; his vivid illustrations graced the pages of many catalogues, some produced in collaboration with letterist Ruth Gill. His last Christmas catalogue for the store – produced in 1959 – is considered one of his finest works. His illustrations feature heavily in Fortnum's recently published cookbook.
Rex Whistler (1905–1944)
Born in Eltham, John 'Rex' Whistler showed a precocious talent for art from a young age. He studied at the Slade School of Fine Art and embarked on an illustrious – if sadly short-lived – career after, dabbling in painting, illustration, ballet design and more. Whistler worked at Fortnum's in the 1930s, crafting a particularly terrific cover for the Entertaining Made Easy food catalogue in 1936. He was killed by a mortar in Normandy during the Second World War.

Ruth Gill (born c. 1910-1920)
Gill was taught by Henry Moore at the Chelsea School of Arts. She was a director of Colman Prentis and Varley when she worked on the logo for Fortnum & Mason in the mid-1950s (below), in conjunction with Bawden.
Sir Cedric Lockwood Morris (1889–1982)
Morris was one of the finest twentieth-century British painters of flowers and garden produce. His wide engagement with the natural world was reflected equally in his remarkable paintings of birds (shown in their habitats, yet often seen almost as personalities), of animals, and of British and foreign landscapes. No less distinguished was his achievement as a portrait painter, his approach extending from the satirical to the deeply affectionate.

Oliver Messel (1904–1978)
Educated at Eton and a student of influential art teacher Henry Tonks at the Slade, Messel became known for the masks worn at student parties, which he modelled from wax and papier mâché. He soon turned to the ancient art of theatrical mask making, and he was commissioned to create pieces for revues, operas and ballets – eventually leading into his forays in set design. Messel took on small commercial commissions at this time, including a catalogue for Fortnum's and dressing the store.
INFORMATION
The Cook Book, £30, published by Fourth Estate. For more information, visit the Fortnum & Mason website (opens in new tab)
ADDRESS
Fortnum & Mason
181 Piccadilly
London W1A 1ER