Technically speaking: the latest fast-lane tech on the road to success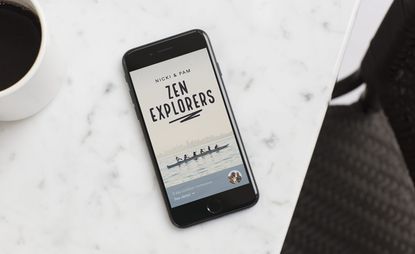 (Image credit: press)
Improvements in travel technology are moving a mile a minute. 2017 has barely geared up, and we've already seen an influx of travel-related tech emerge at Las Vegas' CES – from thumbnail-sized DataTraveler cards that hold enough movies to cover countless round-the-world flights, to immersive VR gadgets that take you to exotic destinations without leaving your sofa.

Above all, we've seen an upward swing in travel designs that put two concepts at their core: ease and enjoyment. User-led products are engineered to improve your trip while simplifying it, by building international communities and keeping you connected to them. Here are four recent tech launches accomplishing just that...
Airbnb Trips
There was a time that holidays were synonymous with relaxation and switching off. Now, the millennial traveler demands interaction and immersion, the familiar concept of 'slow travel' eschewing package holidays and all-inclusive snoozes on the beach.

Back in November, Airbnb's CEO Brian Chesky launched Trips – a break-out platform served by the existing Airbnb brand. From samurai swordplay afternoons to multi-day classic car road-trips in Malibu, Airbnb handpicks experiences, offering deep insight into local communities. Organised by place and passion, over 500 hosts have experiences listed in 39 cities.

Chesky explains, 'We want to make travel magical again by putting people back at the heart of every trip.' The experiences are community-orientated, stylish and immersive – three things that Airbnb's expendable income-laden audience look for. As Chesky said at the launch, 'travel has never really been about where you go, but it's about who you can become' – the backbone of the Airbnb ethos. With Experiences, Places and Homes already under the Airbnb umbrella, and Flights and Services to be added in the near future, Airbnb is evolving from a home rental site into a bespoke, contemporary version of the package holiday provider. Sign us up.

Raden luggage
You may not know it, but your current luggage is dumb. So thinks Josh Udashkin, founder of smart luggage company Raden. The impressive American businessman doesn't come from a typical design or technology background. His glittering – if unconventional – CV includes a doctorate in law and the title of global development lead at Aldo International. As a legalese global developer, he did his fair share of continent hopping, all too aware of the frustrations of the frequent flyer. So he dreamt up Raden, the connected luggage system.

The bags feature everything you'd expect from smart luggage, including a powerful, integrated phone charger and easy to use tracking technology. Two additions really set Raden apart: an in-built bag weighing scale means no last-minute unpacking before customs; and the Raden Support tool (similar to the one found in the Google Pixel) provides comforting tech support wherever you happen to be. 'We are alleviating the most blatant pain-points of travel and creating a community of travelers around the app,' he expains.

The beautifully designed, lightweight luggage is smart – but only as smart as it needs to be. Every technological element has a purpose. The integrated lock, for example, is reassuringly traditional. 'We could have put all sorts of unnecessary tech in Raden, but that would have made it a gimmick, not a product that would make day-to-day travel easier.' Case closed.

B&O Play H9
With 2017 set to be cluttered by fiddly, losable wireless ear buds, B&O Play is keeping things refreshingly large and cushioned with its latest travel headphones, the H9, released just before Christmas.

Concept and design manager Jakob Kristoffersen reveals his reasoning behind the need to keep things comfortable – and simple – when it comes to travel audio. 'When design is not conceptually founded – that is, designed for something else in mind than the traveller (like maximising profit) – technology can disrupt the most precious moments of your adventure.'

Appropriately for headphones that cancel out noise, the design is quiet and understated. Genuine leather 'ages with beauty and tell just as many tales as your camera', and is bolstered by soft lambskin and memory foam ear pads. Inside, the technology is just as traveller-driven. The technical wizardry of the active noise cancellation (ANC) cocoons ears from external annoyances, as does the industry-leading 14 hours of battery life.

Horizn Studios travel accessories
Aiming its wares at 'urban nomads', luxury Berlin-based newcomer Horizn Studios has locked on to the seamless travel trend. The brand's young, dynamic team is of the mindset that every journey – even the most mundane commute – has the potential to be an elegant experience. Encased in a hand-stitched, Italian leather pouch, the locally engineered charger inside keeps your smartphone topped up on the go.

Of course, minimal, well-crafted portable phone chargers are ten a penny these days. What elevates Horizn Studios is the add-on extras. It is committed to creating an internationally relevant travel hub. With every purchase, customers are offered an online travel assistant, promising 24/7 support and travel inspiration, from a team of dedicated experts, with an average response time of less than 60 seconds.

Technology is making the world feel smaller and more accessible than ever. And though there's certainly a place for digital detox, the personal touches, local emphasis and user-lead engineering of these designs mean we don't always have to disconnect, to reconnect.
INFORMATION
For more information, visit the Airbnb website (opens in new tab), the Raden website (opens in new tab), the B&O Play website (opens in new tab), and the Horizn Studios website (opens in new tab)
Elly Parsons is the Digital Editor of Wallpaper*, where she oversees Wallpaper.com and its social platforms. She has been with the brand since 2015 in various roles, spending time as digital writer – specialising in art, technology and contemporary culture – and as deputy digital editor. She was shortlisted for a PPA Award in 2017, has written extensively for many publications, and has contributed to three books. She is a guest lecturer in digital journalism at Goldsmiths University, London, where she also holds a masters degree in creative writing. Now, her main areas of expertise include content strategy, audience engagement, and social media.