Suits you: Maserati teams up with Zegna (for good this time)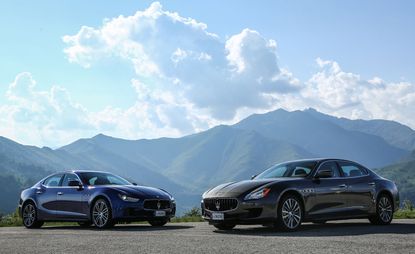 (Image credit: press)
Silk might seem like an unlikely automotive fabric but a new version of the material – especially developed by fashion brand Ermenegildo Zegna as a new trim line for Maserati – intends to prove otherwise.

The two luxury brands have things in common beyond their Italian roots and 206 collective years of heritage, Zegna's CEO Gildo Zegna citing 'innovation, "something unique" and an appeal to women as well as men' as useful extra markers. But despite the mutual admiration, Maserati's no-nonsense CEO Harald Wester took some convincing that silk was the right collaborative path.

'I was skeptical, so I said "supply me the best and strongest material you have" and we started testing. Making a crash-test dummy jump up and down into a seat 250,000 times with normal auto fabric is no problem, but with silk it was, so we had to start again. Then there were temperature changes to consider, humidity and strong sunlight. It took us two years to solve. We did a special edition first, but now every customer that wants it can have silk in our cars.'

The edition Wester refers to was the 2013 100-edition Quattroporte Ermenegildo Zegna, with suit-style woven fabrics inside the cabin. Following that success, Maserati has now announced that the Zegna name will become a specific and long-standing trim option, used for the seats, door linings and ceiling headliners on its regular production models.

The material created for the seats is much heavier, at 320g per metre versus 150g for suits, but despite Zegna's highly complex weaving machines the process still involves human hands and judgement, creating a warmer fabric than the typical metal, leather and wood automotive staples. As chairman Paolo Zegna explains, 'We learned a lot from this collaborative process, using Chinese silk woven in Italy. We believe it will be very hard for anyone to copy it due to the amount of work we've put in.'

As a place to sit and drive, the Zegna trim models are comfortable, cool and non-stick in hotter climates, where full-leather can be unpleasant. And in terms of design and placement, the material's use is subtle and understated. Indeed, the only Zegna badging on the car is on the back of the sun visor when folded down, a bit like the label on a suit's inside pocket. Refreshing.
Receive our daily digest of inspiration, escapism and design stories from around the world direct to your inbox
Guy Bird is a London-based writer, editor and consultant specialising in cars and car design, but also covers aviation, architecture, street art, sneakers and music. His journalistic experience spans more than 25 years in the UK and global industry. See more at www.guybird.com