Stirring the senses: Hotel Café Royal and Parfums Givenchy combine forces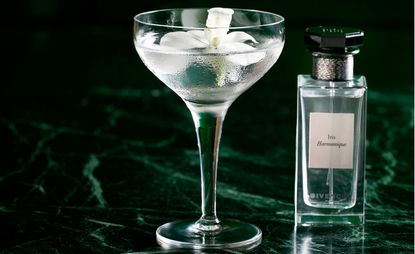 (Image credit: TBC)
What do the Hotel Café Royal, located in the bustling heart of central London, and the Parisian perfume brand Parfums Givenchy have in common? They both epitomise opulence.

As an ode to their shared philosophy – defining luxury as something that is inherently sensual, Hotel Café Royal is launching ten new cocktails to honour the unveiling of Parfums Givenchy's L'Atelier de Givenchy collection, its latest range of fragrances. The collaboration embodies an alliance of the senses; encompassing sight, smell and taste.

The conception behind the ten new cocktails was devised by Hotel Café Royal's bar manager Derren King. King's objective was to carefully reflect the diverse range of scents that comprise the Parfums Givenchy collection.

King worked closely with each of the perfumes to strike the right flavour note. The result of this delicate balancing act is an invigorating selection of cocktails that mixes floral and summery concoctions alongside more headier, full-bodied alternatives.

The inviting array of options on offer include Chypre Caresse – a blend of Slingsby London Dry Gin with freshly squeezed grapefruit, agave syrup and Peychaud's, topped with prosecco and Maraschino. Oud Flamboyant comes presented with light smoke and honeycomb, Nikka Coffey Grain whisky, Coconut Noir iced tea, Mānuka honey and flash-flamed cinnamon. Iris Harmonique, the most recent addition to the perfume range is mirrored through a summery mix of coconut-infused Ketel One Vodka, kumquat liqueur and lemon zest.

In keeping with the inspiration behind the Green Bar, which is a tribute to London's history of using botanicals in its gin production and mixology, the cocktails are coupled with the Green Bar's signature garnishes and come housed in distinctive glassware.

For full sensory impact, the fragrances will be kept behind the bar so customers can bask in the individual aromas to help them decide their cocktail of choice. The bartenders will also provide detailed insight into the fragrances infused in each cocktail and will serve them alongside a scented button provided by Givenchy.

The Hotel Café Royal and Parfums Givenchy collaboration is fruitful in every sense of the word.
INFORMATION
The L'Atelier de Givenchy fragrance line is exclusive to Harrods and the inspired range of cocktails will be available until the end of September at the Hotel Café Royal, priced at £15 a cocktail. For more information, visit the Hotel Café Royal website