Stefan Sielaff talks about Audi's design future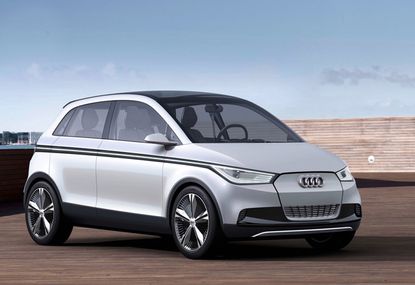 (Image credit: Audi)
Wallpaper* Newsletter
Receive our daily digest of inspiration, escapism and design stories from around the world direct to your inbox
Thank you for signing up to Wallpaper. You will receive a verification email shortly.
There was a problem. Please refresh the page and try again.
Trained at the Royal College of Art, Stefan Sielaff joined Audi in 1990 becoming head of design in 2006. Wallpaper* caught up with him at the flagship Audi centre in West London to talk about the marque's involvement with architects and urbanism, and his thoughts on electric car design.
In 2010 you initiated the Audi Urban Future initiative whereby six architects examined how urban planning and architecture will change in 2030 to embrace sustainable mobility. How involved have you been with architecture and urbanism since?
I appreciate this dialogue between the architects and us because they relate with each other so much. I really like the more abstract discussions with Jürgen Mayer, Allison Brooks and BIG and also the sociologists now involved who are looking at how society is changing. This is a moving target and we have to follow it.
The award was given to Jürgen Mayer for his visionary cityscape for 2030, where the autonomous car will transform from being a machine for manoeuvring in traffic to a sensorial experience one - the opened up urban space allowing buildings to grow. Why did you choose this proposal over the others?
Part of the challenge we set was to see how traffic, cars, public transport and buildings interact in megacities. The idea was outstanding for us because he was still dealing with the car as a personal means of transport even in a future scenario like this.
What did this project and the subsequent Audi Urban Future Summit held before the Frankfurt Motor Show in September teach you?
The A2 show car [unveiled at the Frankfurt Motor Show] came out of Jürgen Mayer's idea of having this warm, intelligent city with cars connected to each other, gaining space in the city and giving space back into the city for parks, special facades in front of houses.
Also I used to think in the future autonomous driving was going to happen in the highway, but I realised from this proposition that it is the other way round. You need autonomous drive in the city, as all the cars then are relating to each other, to guarantee a flow of traffic.
How does this then feed into your activities as a car designer?
The A2, for instance, had to have drive-by-wire technology because you need this to guarantee autonomous driving which you have to show with the help of design. We always think we have to show the driver what's happening, as even when the car is autonomous, the driver is still responsible. Off course the vision is that people will relax, read or even sleep in the car much like an aeroplane - but this will happen much more in the future.
Mayer told me recently that a company like Audi needs to become a provider of mobility solutions rather than cars, with some kind of membership scheme. What are your thoughts on this?
We are moving more and more in city environments rather than driving racing cars in little country roads. Plus there are the legal implications. In Shanghai and Beijing already you see two-wheel transport has to be driven electrically. Therefore as a producer you have to react. It isn't a question of if you want to - you have to be flexible or you die.
In the city of the future the scenario could be that you don't own a car privately or personally but a membership. You will want to drive a small city car for short commuting but for out-of-town cruising you take a bigger car. The relationship between the customer and the car might change and yes these are scenarios that we all have to think about.
Looking at Audi car design, the cars seem to have become a little flashier in recent years. Do you see the design returning to a more restrained aesthetic?
Personally I believe in a more reduced, clean design language, which is part of the genetic code of Audi. We're creating quite elaborate, expensive products. Therefore it is also a question of aesthetic sustainability that stays for a long time. A car will only be sustainable if it's not a short term fashion product.
The car is now 125 years old and it is very difficult to reinvent this product from a technical point. You cannot do blockbuster innovations anymore. Now you're not buying a car because it has the best brakes, they all do, but design is differentiation factor. And then everyone starts following a certain route of what is successful design so what you end up doing is exaggerating, becoming more wild and ecstatic. I agree it is a danger.
Head of Audi Group design Wolfgang Egger hinted recently that now that Audi cars are a strong visual family he would like to create differentiations. How is this coming along?
We understand the problem and are working on it. You have two choices: either you follow the brand or the product - for us you first see Audi then the product. This is our policy and we think it is the first signature of being premium.
Nevertheless as the diversification of the product portfolio gets bigger and bigger we don't want to do a sausage machine so we want to create different product families. We call this the A, Q and R strategy. All three families have to be recognised as Audi but they need to have their own identity. So we are finding landmarks to define each family. For example the grille is more horizontal in the A family and more vertical in the Q family. The next step will be to tier the sausages in the A family away from each other, how the ingredients in the single frame and lights will look different.
With Audi's electric e-tron family, do you feel there is a need for a purely electric aesthetic?
Good question. As a designer I would like to do an e-tron that is an e-tron - a sheer electric propelled vehicle that does not share its body with a combustion engine car. It does need to have its own design and it is an ongoing internal discussion. We need more time before we can find a clear technological package for an authentic electric car.
However, at the end of the day I don't know if the story of the electric car is as big as we all think. We have a strong pluralism of propulsion systems starting with the electric car but also compressed natural gas, hydrogen and so on. So do you want to give all these different directions a specific look? Or at the end of the day will the car look quite familiar?
BMW's electric i cars feature quite a bit of glass that makes the cars look visually light but in case of production will in fact be quite heavy. What are your thoughts on material choice for electric cars?
Audi is fighting to make the electric cars as light as possible as you have to compensate for the heavy batteries for better range. From the psychological point of view glass looks light but it is quite the opposite. We had this same issue with the [all aluminium] former A2. The car looked like a tank despite the fact it was very light and this was a real design problem.
The new A2 concept is designed in carbon fibre and therefore extremely light. How challenging is it to work with this material?
From the design point of view working with carbon fibre is great as you can do lots of sharp edges that you cannot do with aluminium and sharp edges allow the car to look like an athlete.
But from a technological point of view the material is very difficult to handle, as you have to mould it in a vacuum so it is good for single use cases like racing cars and aeroplane but still a big thing to develop the process for mass production. I think it is a good idea to do a mix of aluminium and carbon fibre and this is a direction Audi is heading towards.
Are you going to progress further in the development of the two small Urban Concept cars shown at the Frankfurt Motor Show?
These cars were not meant for production in one or two years but as a continuous project. We now understand that we have to experiment not only with technological aspects but also with cultural aspect within the company by doing a small production number [around 100]. This way we can overcome a lot of legislation problems and you don't have to talk about a business case - otherwise it becomes impossible to do such vehicles in the future.
Would you practice a similar idea on other innovations?
Yes maybe this will help us break away from this one thinking channel. If successful then it could act as a prototype in how we change our process for some of our vehicles. Sporty vehicles are for us a kind of avant-garde statement so this could be a good test case. You have to get people into another thinking direction because there is a big danger you will run in the same channel for the rest of your life.
Receive our daily digest of inspiration, escapism and design stories from around the world direct to your inbox