Sparks fly: Maestro Dobel Tequila's smoked 'Humito' ignites the palate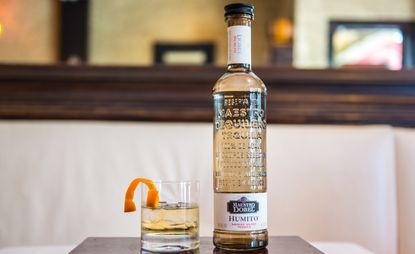 (Image credit: courtesy of Tara, Ink.)
From birth, Juan-Domingo 'Dobel' Beckmann's vocation has been tequila. The leader of eleventh-generation distillery Maestro Dobel Tequila follows two and a half centuries of the family business– beginning with very familiar brand name, Jose Cuervo, founded in 1795.

However, to this predestined role Beckmann has brought a unique emphasis on design, infusing the brand with contemporary vision for a spirit rooted in the Aztecs.

'It's challenging because cognac and scotch are starting to become a little more modern so you get tempted to do fancy packaging,' Beckmann explains. His solution? Tantalise the consumer by reaching back in time. Way back.

Thus, Maestro Dobel just released 'Humito,' marketed as 'the world's first-ever smoked silver tequila' and feted with an exclusive event at The Garage, Kenneth Cole's industrial NYC venue.

'We decided to cook the agave with mesquite wood to show consumers how tequila tasted a hundred, two hundred years ago,' says Beckmann. The result pairs the 'smokiness of a single malt' with 'the neutrality of the tequila,' he explains.

Partnering with Maestro Dobel for the launch was Los Angeles-based hatmaker Nick Fouquet, who counts Wallpaper* Design Awards 2011 judge Pharrell among his devotees.

Fouquet also pairs handmade craft with contemporary design. To him, the launch partnership was a natural one: 'I saw a lot of parallels between how I make things and how the tequila gets made.'

'There is a market and demand for bespoke objects,' Fouquet explains, just as consumers increasingly want to know the technique and origin story behind their libation. And, of course, it has to look good.

Maestro Dobel packages 'Humito' in vintage laboratory-inspired bottles with embossed branding in instantly recognizable apothecary lettering. Each of the limited edition bottles is individually numbered.

When asked to translate this tequila into a hat, Fouquet jumps right in with a description: light coloured, blue-green 'agave' stitching and something to do with fire to represent the mesquite.

We look forward to seeing such a hat realized. Undoubtedly, to be worn while sipping on a cleverly named cocktail. As bartenders get their hands on 'Humito,' sparks are sure to fly.