Scandi twist: Meraki's Danish-made organic lifestyle and skincare products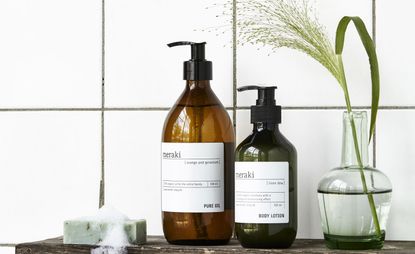 (Image credit: press)
Lifestyle brand Meraki is putting a Scandi twist on beauty and homeware with its beautifully curated Autumn collection. Designed and developed in Denmark, the new range encompasses everything from sponges made with 100% natural konjac dietary fibre, to a 'sand dune' themed dishwasher detergent, scented with orange, lemon and green Iris.

The common theme of the collection is simple, organic design and natural ingredients. All products are made without parabens, colorants and only contain mild preservatives. Essential oils, including extracts of leaves, nuts and flowers, are used throughout to add both fragrance and effect. The pure oil, with orange and geranium, is 100% organic, and can be used for everything from moisturising, to a protective treatment for the skin or hair.

To emphasise the 'natural' dimension of the collection, users are encouraged to mix and match products such as the guérande sea salt and pure oil as much as they like. Add some lemon zest and crush some mint leaves in a mortar to make a DIY lemon body scrub, and pop it in one of the multi-sized speckled grey toilet bags to complete the look.
Essential oils, including extracts of leaves, nuts and flowers, are used throughout to add both fragrance and effect. The pure oil, with orange and geranium, is 100% organic, and can be used for everything from moisturising, to a protective treatment for the skin or hair
To emphasise the 'natural' dimension of the collection, users are encouraged to mix and match products such as the guérande sea salt and pure oil as much as they like. Add some lemon zest and crush some mint leaves in a mortar to make a DIY lemon body scrub, and pop it in one of the multi-sized speckled grey toilet bags to complete the look
INFORMATION
For more information visit Meraki (opens in new tab)