Feeling fresh in South LA: Renee Gunter launches DO! Daily Organics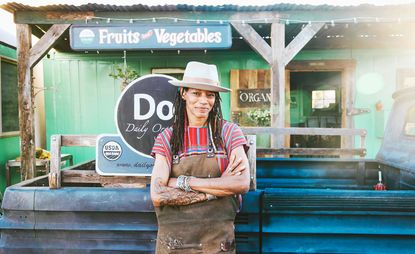 (Image credit: Photography: Amy Dickerson)
With her dramatic cheekbones, badass work boots and indelible smile, Renee Gunter, 63, is a larger than life character. A former model in 1980s Europe (for YSL, Givenchy, Balenciaga et al) this Los Angeleno – she also has some Native American Choctaw heritage – was born with the special poise that takes you a long way.

Among her diverse activities, she was a landscape designer for almost 20 years, specialising in maintaining drought resistant plants for the luxuriant gardens of Oscar/Emmy-winning talents in Beverly Hills. Back to her original turf – gritty South LA, east of Culver City – the mother of two quickly noticed that she had settled in the middle of a 'food desert'. 'The only dinner option,' she explains, 'are the chips at the gas station.'

A soul entrepreneur, she decided to tackle the issue with bravado and her unique sense of style: first with a vintage Chevrolet pick-up truck loaded with organic fresh produces, now with her own shop. Opened in September, DO! Daily Organics is part of a local project, named Adams Gateway, initiated by interior designer and restaurant entrepreneur Frederick Sutherland. Eight recycled shipping containers on West Adams Boulevard house a community of art and craft boutiques, as 'a new age take on the strip mall'.

Among its neighbours (largely hawking vintage vinyl and handcrafted jewellery) DO! stands out with its European luxe vibes. Painted in 'timeless Tiffany Blue' and decorated like an antiques store, the former steel box has become a display case for meticulously curated fresh and fine products: from local coffee and gourmet jams to hand-made organic beauty products in small batches. In addition, Gunter is about to become an even stronger voice in the trendy art of conscious style, as she's currently working on a TV docu-series with legendary food historian Betty Fussell.
INFORMATION
For more information, visit the DO! Daily Organics website (opens in new tab)
ADDRESS
DO! Daily Organics
5746 Adams Boulevard
Los Angeles, CA 90016
VIEW GOOGLE MAPS (opens in new tab)