Renault adds to its stable of zero-emission electric cars with the Twizy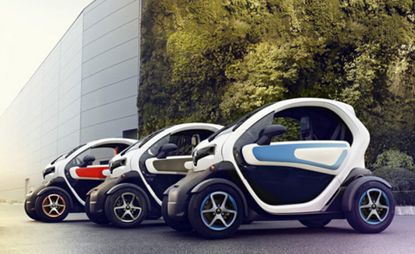 (Image credit: TBC)
Wallpaper* Newsletter
Receive our daily digest of inspiration, escapism and design stories from around the world direct to your inbox
Thank you for signing up to Wallpaper. You will receive a verification email shortly.
There was a problem. Please refresh the page and try again.
The sight of a dozen Renault Twizys snaking along Ibiza's mountain roads was all that was needed to distract the sun worshipers from their beachy reveries during a recent presentation. The tiny rolling pods were like props from a sci-fi film. Even Renault has taken to referring to them as UDOs, or Unidentified Driving Objects.

This being Ibiza, though, the attention was positive - the sunshine and chilled vibe complementing a non-conformist car. Twizy may not be so readily accepted on the more self-conscious roads of Europe's capitals, where it was designed to get traffic moving again, but here it proved a perfect run-around.

Twizy is the latest model in Renault's family of zero-emission (ZE) electric cars that already include the Fluence, Kangoo and, later this year, the Zoe. At just 2.34m by 1.24m, the two-seater quadricycle is available with or without doors; the scissor doors only partially enclose the car in any case. The more powerful of the two models accelerates to 28mph in six seconds and offers a top speed of just over 50mph (we managed 53mph going downhill).

The battery promises a 62-mile (100km) range in eco-mode and takes 3.5 hours to charge - the bright blue cord that fits neatly into the nose works with any standard 220V outlet. This makes it ideal for short distance travel, but in apartment-dwelling cities like London and Paris, charging the Twizy won't be such a breeze. As with its other ZE vehicles, Renault will lease out the battery on a monthly subscription.

Renault has shown restraint by keeping Twizy's gadgety look uncluttered, almost innocent. The scissor doors give it a tongue-in-cheek futuristic look, lifting up without effort or noise. The driver can see the road beneath his feet thanks to transparent plastic in the floor. The absence of windows creates a semi-open-air drive cocooned by Renault's safety features.

Seats are hard and upright, befitting a commuting machine, and the seatbelts wrap around from both sides. The compact rear seat requires some agility to squeeze into, but once in it's a snug fit - and quite fun for a passenger. Sadly lacking is any substantial storage space, just two three-litre bins on either side of the steering wheel and a further 31 litres behind the passenger seat.

Back in 2001, as Toyota was rolling out its Prius to unprecedented kudos and market share, Renault introduced its eccentric Avantime, a sales disaster but a cult in the making. This is Renault's second chance. While other carmakers have prototyped urban pods, the French marque is the first to bring an all-electric into mainstream production. With DJ David Guetta as its brand ambassador, it's clearly aimed at young first-time buyers, particularly in markets where smaller engines can be driven without a licence. It's this market that has turned its back on the traditional planet-polluting, ego-enhancing automobile, and Renault hopes to tap into that.
Receive our daily digest of inspiration, escapism and design stories from around the world direct to your inbox