On the scent: five of the finest olfactory delights from Pitti Fragranze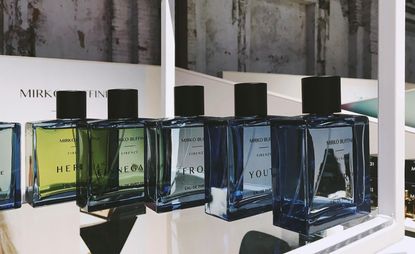 (Image credit: pitti immagine)
For a few days every September, a former railway station in Florence becomes the centre of the fragrance world, as perfumers, distributors and buyers from as far afield as Australia and Japan converge on the Stazione Leopolda for the annual Pitti Fragranze fair.

With 200 brands – mainly smaller independents – in attendance, this year's fair attracted around 2,200 buyers from more than 50 countries. There were some startling jumps in attendance, with a 50 per cent increase in Russian and a 20 per cent increase in British buyers, perhaps reflecting how niche perfume brands are attracting an ever-more international audience.

In a departure from previous editions of Pitti Fragranze, this year the fair was a trade-only event, without the usual days open to the general public. Apparently this was a request from the exhibitors themselves, but if anything it seemed busier than ever, which must be reassuring for the organisers.

Spending a day or two talking to brand owners and distributors is always a useful experience, and though it's notoriously hard to discern very strong new trends even in such a concentrated environment, it's clear that niche perfumery is a booming business. In an increasingly saturated market, it's hard for new brands to distinguish themselves using design or concepts, so those that do are definitely worth looking at. Here, we round up five of our favourites from this year's fair.
Waters + Wild (opens in new tab), West Cork
Ireland may not be known as a centre of contemporary perfumery, but Joan Woods is hoping to change that with Waters + Wild, producing attractive, certified organic fragrances and scented candles from a farm on the Atlantic coast of West Cork. The four first perfumes – Sweet Basil + Bergamot, Rose + Oud, Tuberose + Frankincense and Cedarwood + Cognac – remind us of early Jo Malone, with their fresh and natural vibes, but what really caught our eye were the scented candles. The market for these is now so populous that it's incredibly hard to stand out from the crowd, but these come in porcelain containers hand-made by local potter Robert Lee, which are attractive in their own right.
Eris Parfums (opens in new tab), New York
Founded by vintage perfume collector Barbara Herman in 2014, Eris Parfums (named after the Greek goddess of discord and strife) fields four scents so far, all created by perfumer Antoine Lie (the nose behind Armani Code and Comme des Garçons' Wonderwood, among others). The first three – Night Flower, Ma Bête and Belle de Jour – explored sexuality and the body using animalic notes, while the newly launched Mx is all about gender fluidity. Herman explains: 'Mx is genderfluid – sometimes hinting at conventionally masculine notes, sometimes conventionally feminine notes – but truly blurring their boundaries.' It's got some sharp graphic black-and-white labelling, too.
Mirko Buffini (opens in new tab), Florence
Italian entrepreneur Mirko Buffini founded his eponymous brand in 2014, with a range of unisex eaux de parfum in smart square bottles; with hipster names like OG and MOXI, they've done especially well in Japan. His new range is inspired by James Joyce's famously impenetrable novel Finnegans Wake, with ten different unisex scents using the same bottle design, but this time in blue glass, with each perfume a different colour inside. The HCE collection offers a variety of scent types, from the woody Mr FRY, infused with nutmeg and ylang-ylang, to the oriental HERMA, spiced with saffron and jasmine.
4160 Tuesdays, Acton
British perfumer Sarah McCartney makes scents that are thoughtful without being in the slightest bit pretentious (a rare thing in the perfume world) and sometimes even funny (even rarer). Her new range, Our Modern Lives (opens in new tab), is her response to the number of customers who ask for all-natural perfumes: six scents made entirely from 'natural' ingredients, plus two that are completely synthetic, dubbed Alpha and Beta. Alpha is a woodsy amber, while Beta is smooth and gentle; both have excellent longevity, and come in attractively simple bottles in tubular cardboard containers.
Parco1923, Milan
This new brand is named after the national park of the Abruzzo mountains in central Italy, created in 1923 to safeguard the remaining population of Appenine brown bears. Its eponymous perfume, designed by Luca Maffei, is a gently woody musk that's centred around the scent of oakmoss, though its gimmick is that it also contains traces of wild plants found within the park: specifically Spanish broom, wild celery, juniper, honeysuckle, iris, laburnum and beech. It comes in an attractive green apothecary bottle, but its real selling-point is the ring of white pietra gentile stone that sits below the beechwood cap, which is impregnated with a little more of the scent every time you spray. It's detachable, so you end up with a perfumed ring – not something you can say every day.
INFORMATION
Pitti Fragranze ran from 8–10 September. For more information, visit the Pitti Fragranze website (opens in new tab)