Stag party: Picky Nicky's edit of Cedes Milano's antler accessories
Dedicated to the expert manufacturing of small, yet luxurious serving and grooming products made out of natural materials, Cedes Milano is headed by Manuela Casati and Mauro Lorenzi. The Milanese company uses specialist craftsmanship and lavish materials – such as horns, bamboo, leather and exotic woods – to create long-lasting pieces to use and love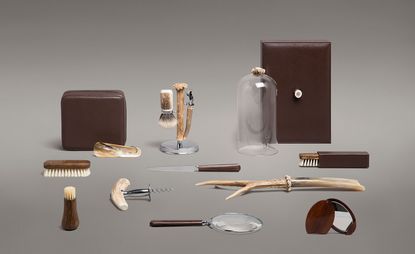 (Image credit: Cedes Milano)
Available at WallpaperSTORE* (opens in new tab), Cedes Milano uses specialist craftsmanship and natural materials – such as antler, horn, bamboo, leather and exotic woods – to create long-lasting pieces to use and love
This handsome, horny and decidedly dapper edit of dressing room desirables, bar essentials and desk top necessities from WallpaperSTORE* (opens in new tab) is made up of exquisite, one of a kind tools.

Find out more about the travelling shoe care set here
Crafted from precious cocobolo and ovangkol wood, grained leather and glorious antler, that majestic and precious material naturally shed and regrown each year by the stag or roe deer.

My pick of the week includes a shaving set and glass dome that looks just as good on its own, leather box, a travelling brush especially developed for cashmere with its own leather case, shoe horn, pocket mirror, magnifying glass, letter opener and a cork screw that every bar should have. All these wonders have been produced by hand in the Milanese workshops of Cedes Milano, run by Mauro Lorenzi, grandson of Giovanni Lorenzi of G.Lorenzi fame.
Find out more about the stag antler handled shoehorn here

Our very own creative market place for design, WallpaperSTORE* (opens in new tab) stocks, wraps and dispatches our pick of the finely formed and forward thinking from around the world.

Nick Vinson, also known as Picky Nicky, has been an editor at Wallpaper* since 2012, curates the selection for WallpaperSTORE*, where he is general merchandising manager and also pens the monthly 'Vinson View' column in Wallpaper*.
INFORMATION
Shop Picky Nicky's edit now at WallpaperSTORE* (opens in new tab)