Bubbles and strife: Picky Nicky argues for more substance and scrutiny at Salone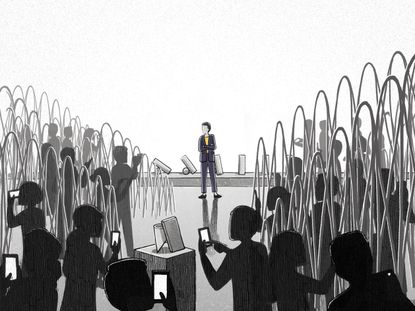 (Image credit: Danae Diaz)
It's well documented, and not just by the picky among us, that, during Milan's Salone del Mobile, navigating the Fuorisalone (everything outside of the official fair grounds) is tough. Design magazine Interni lists 450 events, which just means that 450 companies paid to be included in its listing guide. Fuorisalone.it, which also offers a smartphone app, lists 1,498 events, and includes 13 separate zones, such as the Brera Design District (with 192 events) and Ventura Lambrate & Centrale (with 136). There is just too much on offer and not enough vetting and editing.

The rise of Instagram means that picturesque postings send swarms on a journey around the city. The winners, in terms of foot-traffic, were those that looked best on a smartphone. The top ten posts of the 76,911 (and counting) that tagged #SalonedelMobile2017 (opens in new tab) had between 31,000 and 223,000 likes each.

The top events this year included Louis Vuitton's 'Objets Nomades', Studio Swine's 'New Spring' blossom tree for Cos, Marc Ange's 'Le Refuge' at our own Wallpaper* Handmade, and Nendo, which took over Jil Sander's showroom. Nendo had 12,000 visitors over the week and queues from the afternoon on the first day right through to the end. Dimore Studiohad so many people in its apartment that I had to leave without seeing much. I came away with just a memory of some pink 'Locus Solus' garden furniture by Gae Aulenti for Poltronova.
One great thing about the fair was its accessibility. But I get the feeling that these days we professionals are only invited to shows and events so we can Instagram them in a flash – even an online review just takes too long to get posted now.

There were so many people on the streets (the good weather helped) that there was no room for those of us who were there to do a job. I had to have a little chat with security at Cos (3,500 visitors on the last day) and Louis Vuitton (4,000-5,000 per day) to ensure that I didn't have to queue. Cos – which makes great, accessibly priced clothing – is a very, very clever marketeer. Every year it comes to the fair for the halo effect and a bit of design dust, each time collaborating with a different designer. This year, some bright spark brought on board Studio Swine, which created delicate mist-filled 'blossoms' that disappeared on contact with skin – glorious but fun.

The industry needs to develop new products to survive, and that stimulation of creator and maker is essential for the health of the sector. I loved my three minutes at the Cos installation, but design is for life, and my highlights listed top right will endure long after the bubble bursts.
More than fun, my Milan highlights:

Formafantasma: I was delighted by its Delta lighting collection at Spazio Krizia and its line for Nude Glass.

Molteni & C: Vincent Van Duysen's new role as creative director for Molteni & C is a perfect fit.

Flos: Outstanding lighting from the Bouroullecs, Konstantin Grcic and Michael Anastassiades.

'Baroquisme' by Vincenzo De Cotiis: Pure poetry in Murano glass, cast silvered brass, recycled fibreglass and rare marble.

David/Nicolas for Editions Milano: I am obsessed with the zigzag-topped 'Triangoli' collection of marble vases and trays.

Hermès cashmere blankets: Seulgi Lee's colourful quilts were so beautiful I would hang them on the wall.

Vincent Van Duysen: I loved the Belgian designer's new tableware for When Objects Work on his table for Hullebusch.

CC-Tapis: Designs by Faye Toogood and Mae Engelgeer signalled the return of the wall hanging.

As originally featured in the July 2017 issue of Wallpaper* (W*220)