Room for dessert: Shugaa is a Bangkok pastry cafe with an eye on design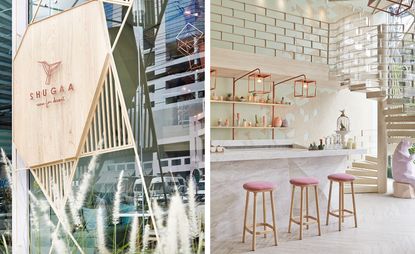 (Image credit: Shugaa)
Shugaa: a palace of 'patiserie' and a world of sweetness. This is the new concept dessert bar tucked away in the streets of Bangkok's Ekamai neighbourhood, masterminded by Thai design studio Party / Space / Design.
The uniqueness of the place lies in its décor, with interiors designed to transcend the pastries themselves. Starting from the front façade, the design is inspired by sugar molecules that allow a certain reflection onto the street as well as distortion of the light within to create the illusion that the entire eating experience is taking place within a giant sugar crystal.
Inside, the space is separated into three designated areas dedicated to the rituals of dessert tasting. The first, on the ground floor, appeals to the taste buds with sweet-inspired colours – like pistachio green walls and marshmallow pink seats – and a dash of luxury by way of rose gold elements and a marble counter top. The spiral staircase, the highlight of the space, makes the bridge between the first sitting area into the second area. Here, the sugar crystal motif shines bright, as acrylic boxes form the molecular banister while wooden steps hold it in place.
The second seating area, on the upper floor, allows customer to engage with the pastries by overseeing their creation through the balustrade of the mezzanine, the chef's atelier behind the counter in full view beneath. The third and final space is a calmer, more restricted area where one can work or read. On some occasions this space also converts into a cooking class area – perfect for a community that shares Shugga's passion for sweetness.
INFORMATION
For more information, visit Shugaa's website (opens in new tab)