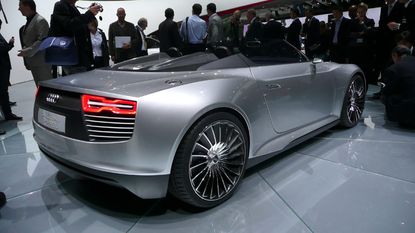 (Image credit: TBC)
A genuine transition to cleaner driving is finally about to take flight, a new era in mobility that was confirmed by the displays at the 2010 Mondial de l'Automobile in Paris. There was a notable buzz – distinctly lacking in recent motor shows - surrounding the final major international motor show of 2010.
It is a pivotal time in the car industry. Now that we are well into the second century of the car, manufacturers are now finalising their response to demands for clean mobility. Ecological car design had initial teething problems - early proposals were awkward, impractical and often had very little familial resemblance to the parent brand. The effort felt forced, a box-ticking exercise to please the legislators and ease public concern.
The game has moved on. Now it's a question of creating individual designs that simultaneously acknowledge the past and point to a marque's future. Zero emission motoring has come of age. 'We are going through big changes in the automotive world,' Peugeot's design chief Gilles Vidal told W*. 'Progress in this area won't only be through engines and technological solutions, but about making our cars lighter, more efficient in terms of recycling. This is a global effort,' he concluded.
So, how have car companies responded? The displays in the vast halls of Porte de Versailles showed that there are multiple solutions for clean, green driving. The simplest is, off course, to replace the old fossil fuel-powerful engine with a far more efficient modern one, be it hybrid, electric or flexi-fuel. Yet, some carmakers have opted for a little more showmanship.
Jaguar stole the limelight with its beautifully sculpted CX75 hybrid. Though purely conceptual at this stage, design director Ian Callum noted that the sports car pointed strongly to where he plans to take the marque in the near future. In particular, the elegant grille shape is very close to production.
Porsche finally confirmed it would be building the exciting 918 Spyder hybrid supercar first seen at the Geneva Motor Show in March. Speaking to us at the show, design director Michael Mauer explained that the car represents Porsche's proposition for green mobility. 'We can cohabit fun, speed and environmental and the 918 shows that you don't have to compromise a sportscar by being ecological,' he noted, adding that bar a few tweaks to pass legislation, the production car, due in 2013, will remain closely linked to the concept.
Audi and BMW also presented more electric variants to join their respective eco sub-brands. Audi unveiled the stunning e-tron Spyder and BMW announced plans to build a car based on its Vision Efficient Dynamic concept that, together with the Megacity Vehicle, will form part of its Project-I electric sub-group.
France's most successful car manufacturer, Peugeot, showcased a realistic and immediate proposition. On its stand were an array of thoughtful and achievable vehicles – from conventional cars to three and two-wheelers - some in production, others still in conceptual stage. All articulated an intelligent, stylish and desirable approach to ecological driving.
Fellow French marque Renault's stand was also packed with practical green solutions. This included three electric cars: the 2011 production Twizy city run-around, and the Zoe and DeZir concepts. The latter marked a timely fresh visual language for Renault, led by head of design Laurens van den Acker. A year into the job, the Dutch designer is eager to make his own signature on the brand, and this electric sportscar, with its asymmetric scissor doors, makes a clear statement. Sister company Nissan showcased the Townpod, a flexible urban vehicle.
Serious weight loss was another running theme. The new Peugeot 508 saloon has shed 60kg compared to the outgoing 407, whilst offering a roomier cabin. Even Lamborghini's Sesto Elemento carbon concept weighs under 1000kg - an extremely low figure for such a high-performance car.
Other cars worth noting are the second-generation Bentley Continental GT. Head of exterior design Raul Pires, who also penned the original 2003 Conti, said the new car is like a sharp, tailored suit. 'We have tried to show that this car is not machine made,' he explained. This is a very important car for Crewe as the original accounted for as much as 85% of the company's sales.
The real star of the Paris show, however, has to be Lotus. The Norfolk firm's new boss Dany Bahar unveiled six new cars: three sport cars, a coupé, a saloon and a city car concept all at the same time - just as the press day was about to end.
The company has been making a loss for 15 years and the ex-Ferrari man intends to turn things around with a hugely ambitious multi-model revival plan. New cars include the Elite, a £100,000 plus supercar designed to challenge Ferrari and Aston Martin head on. In Bahar's vision the current 2,400 units will increase to 5,000 by 2015 and 8,000 thereafter. How he plans to finance such a venture remains to be seen.
Lotus's new design director Donato Coco, also brought in from Ferrari, promised that all the cars will remain in the tradition of Lotus design. 'We are a British sportscar manufacturer and our identity must express this,' he told W* earlier in the day on the stand. 'This is the most exciting British brand in the sense of originality and eccentricity. To me this means the capacity to assembly unexpected elements, materials and shapes. This is what we have done in these cars – assemble a lot of innovation in a scheme that looks really classic.'
Less of a grand statement, but nevertheless equally emotive, was the Audi quattro concept, built to celebrate 30 years of the original four-wheel drive quattro. Design director Wolfgang Egger admitted it was very difficult to redesign such an iconic car. 'You have to move away from the car and just keep the essence of its purity,' he told us as he demonstrated how he evolved the original 1984 Sport quattro into the show car, based on a shortened RS5.
'It was a very angular car, but the modelling technology we have now allows for more dramatic surfacing,' he said. 'The impression of this car has to be the modern impression of the old quattro. We thought this must be more sexual.'
Receive our daily digest of inspiration, escapism and design stories from around the world direct to your inbox