Karl Lagerfeld's role in Paper Passion, a perfume for book lovers, created with Geza Schoen, Steidl and Wallpaper*
Revisiting the launch of Paper Passion perfume, inspired by the scent of a freshly printed book, with packaging designed by Karl Lagerfeld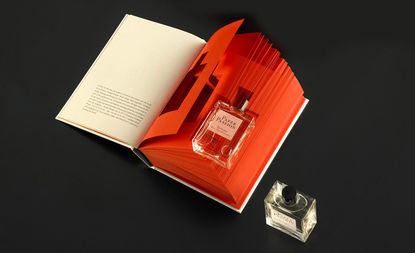 (Image credit: Stephen Lenthall)
As the opening of the Metropolitan Museum of Art's exhibition 'Karl Lagerfeld: A Line of Beauty' (5 May – 16 July 2023) sees the fashion world celebrate the late designer's oeuvre, we revisit a Wallpaper* collaboration that called on another side of his creativity. In 2012, Paper Passion perfume – a joint endeavour between perfumer Geza Schoen, publisher Steidl, Karl Lagerfeld and Wallpaper* – bottled a scent dear to book lovers.
Read more in our article from the time, first published in July 2012…
Wallpaper's 2012 Handmade issue – showcasing one-off collaborations between master designers, craftsmen and manufacturers – may have just hit the shelves but last year's edition is still bearing fruit. The Paper Passion perfume conceived for Handmade 2011, which bottles the seductive scent of a freshly printed book, has been produced and made available to buy.
The perfume was inspired by a throwaway line by German publisher Gerhard Steidl in the film How to Make a Book with Steidl, which suggested his favourite scent was a 'freshly printed book'. We asked him to work with avant-garde perfumer Geza Schoen, founder of Escentric Molecules, to try to bottle that scent. Into the mix came Steidl's friend and long-time collaborator Karl Lagerfeld, who designed the packaging and chose the name Paper Passion.
Paper Passion perfume by Geza Schoen, Steidl, Wallpaper* and Karl Lagerfeld
Schoen worked on capturing the scent and sourcing the necessary ingredients. 'It was hard,' he says. 'The smell of printed paper is dry and fatty; they are not notes you often work with.' He eventually managed to create the perfume with just four or five ingredients, including ethyl linoleate and a selection of woody components to add dryness. Most perfumes contain between 20 and 100 ingredients, but Schoen stuck to his vision of simplicity.
Meanwhile, Steidl turned to Lagerfeld for advice on a packaging concept. Lagerfeld instantly visualised a real book with pages and a hidden cut-out compartment to house the perfume bottle in the middle. In the front of the book are short essays on the subject of paper by Lagerfeld, Schoen, German author and artist Günter Grass, and Wallpaper*.
'Beautiful paper is for me the top of luxury,' writes Lagerfeld. 'I am a paper freak. It's a physical passion. I cannot live without paper. Touching perfect paper has something sensuous about it.'
Geza Schoen
Schoen is the iconoclastic perfumer behind Escentric Molecules, whose career took off like a rocket when he isolated and identified Iso E, the first molecular scent to grab the fashion world's olfactory attention. He has gone on to specialise in conceptual scents. His is the nose behind Wode by Boudicca, Diesel and Intelligence & Fantasy in The Beautiful Mind series. escentric.com
Lagerfeld, Steidl, Druckerei Verlag
LSD is the imprint of German publishing house Steidl and Karl Lagerfeld, established in 2010. The latter's passions (fashion, art, music) drive the programming and content, while Steidl brought his publishing prowess to the mix. A publisher of high-end art and photography books, Steidl consistently combines a disregard for production costs with a fierce attention to detail, technical innovation and quality control. steidlville.com
Article first published in 2012, details correct at the time of publication.
Paper Passion Perfume for Booklovers was available online, in concept stores, bookshops and perfumeries across the world. Now sold out, it remains a collector's item.