As Nissan's London studio turns 15, we remember its finest designs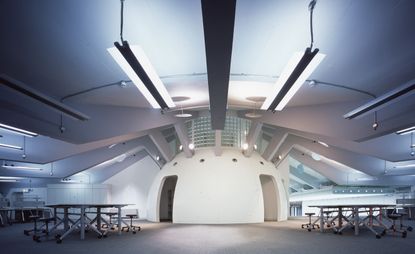 (Image credit: press)
Punching well above its weight – in design quality and sales success – Nissan's Design Europe studio in London celebrates its 15th birthday this month. The talented 60-strong team has been responsible for many key cars for the Japanese automotive brand in that time, including two generations of the Qashqai, the Juke and NV200 van, plus radical concepts for Nissan and its upmarket sister brand Infiniti.

To mark the milestone, Wallpaper* had an exclusive chat with recently-installed Nissan Design Europe Vice President, Mamoru Aoki, at the former railway depot venue in Paddington, to discover his thoughts on 15 of the studio's finest designs so far, where the studio goes next and whether it's a London thing…

Wallpaper*: Why do you think Nissan's London studio influence has been so impressive compared to other car design satellite studios?
Mamoru Aoki: When we develop new products, we almost always involve all of our design studios and our global competitions are real. The Qashqai and Juke were designed for Europe but this studio also got involved in [Japanese market-specific] kei cars and vehicles for the US too. The London studio has consistently produced good results.

W*: Nissan is the only vehicle maker with a permanent London design studio. Do you think that is significant and if so, why?
MA: It's a fantastic location – by the canal near Paddington railway station – and there are always so many things going on in London, so that's inspirational. We can make full-size models here and have an internal viewing space as well. Nissan is the most urban-minded Japanese car brand. We have many nationalities here, but only three or four Japanese!

W*: Which cars from the London studio's history stand out for you?
MA: The Qashqai is the most important Nissan product in Europe. The Juke, design-wise, is a big icon too. For me, the Nissan Concept 2020 and the Gripz, were also both very impressive in showing the next generation of our design language.

W*: What's on your wishlist to achieve while working in London?
MA: Nissan has already established its visual identity – 'emotional geometry' – and developed many cars according to that philosophy, which I was involved in, back in Japan, as executive director of design. But new design SVP, Alfonso Albaisa, has started a new era, so I want to give a lot of input from a European point of view for this next generation.

W*: What design areas will you focus on more in the next few years?
MA: 2020 onwards will be the real autonomous and EV era, so at that time we will have to challenge with new design directions as the platform will be completely different. We have the chance for new architectures, especially with autonomous interiors. Basically the driver will not drive, they can relax or even sleep in the car, so the atmosphere will be different.
1. Qashqai concept, 2003: 'Previewed Nissan's plans to innovate and create a new type of vehicle. It was the starting point for what is now the hugely popular European crossover segment.'
2. Micra c+c, 2005: 'The Micra was already full of character and a small car icon around the world, but this really emphasised its cuteness.'
3. Terranaut concept, 2006: 'A preview of the Nissan Pathfinder SUV, uniquely focused on adventurers, scientists and geologists who travel to extreme regions all over the globe.'
4. Nissan Qashqai, 2007: 'Nissan's first C-segment crossover. By the end of 2007, Nissan had sold almost 100,000 in Europe. The model enhancement in 2010 was also very successful.'
5. NV200 concept, 2007: 'An innovative mix of mobile office and utility vehicle in one unique package. The active, intelligent person's dream vehicle, based on the NV200 van.'
6. Qazana concept, 2009: 'Following the Qashqai's success, this previewed Nissan's plan for a smaller crossover. The concept and the styling were bold and unique.'
7. Juke, 2010: 'Nissan's first B-segment crossover for consumers. An icon of Nissan design, it was further proof of the high potential of what could be created at NDE.'
8. Nissan Qashqai, 2013: 'The second generation of Qashqai. It was a big step forward in almost every way, while keeping the practicality and on-road performance – the 'Qashqai-ness' – of the original.'
9. Nissan Concept 2020, 2014: 'A masterpiece of automotive design, created to showcase the future Nissan design direction that we call "Emotional Geometry".'
10. Infiniti Emerg-E concept, 2014: 'The ultimate expression of Infiniti, Nissan's premium brand, which blends inspired performance and future design direction with zero emissions.'
11. Gripz concept, 2015: 'A study of a near-future B-segment crossover blended with sports car characteristics. It also shows future Nissan design direction, and is consistent with the vision of the Concept 2020.'
12. Infiniti Qx30 Concept, 2015: 'Infiniti's design vision for a new premium compact crossover, targeting a new generation of individualistic premium customer. It led to the QX30 production vehicle.'
13. BladeGlider prototype, 2016: 'A futuristic, high performance EV in a revolutionary sports car design. A running prototype, it has been hugely popular wherever it has been seen all around the world.'
14. Navara EnGuard concept, 2016: 'Shows a potential aftermarket customisation direction for Navara, with innovative use of Nissan EV batteries to create portable power units for businesses which work remotely.'
15. Infiniti Q60 Project Black S, 2017: 'Explores the potential for a new Infiniti high-performance model line. A radical reinterpretation of the Q60 coupe, hinting at a performance hybrid powertrain and inspired by Formula One energy recovery systems.'
INFORMATION
For more information, visit the Nissan website (opens in new tab)
Guy Bird is a London-based writer, editor and consultant specialising in cars and car design, but also covers aviation, architecture, street art, sneakers and music. His journalistic experience spans more than 25 years in the UK and global industry. See more at www.guybird.com (opens in new tab)