Dream boats: letter from Monaco Yacht Show 2017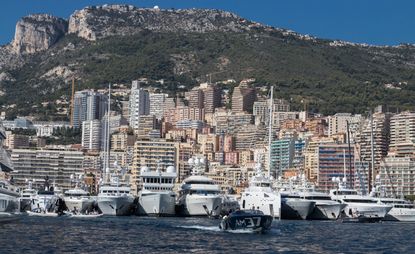 (Image credit: Photography: Quin Bisset)
If you're flying privately into Nice, have a quiet word with the captain just before the final approach. For depending on air traffic control, it's worth knowing on which side of the plane to sit. For this is one of the most spectacular views in civil aviation. With the Mediterranean coastline laid out before you, it's a veritable feast of property-watching. Towards the end of September, there's another thing to look out for; the shining white arrows of the global superyacht community, scattered along the bays and marinas, gradually increasing in frequency until you see the expensive thicket of hulls surrounding Monaco harbour.

A solitary superyacht can be a thing of wonder, if not always of beauty, a monumental symbol of not just wealth but of industry, creativity and massive, massive complexity. However, taken en masse, as per the marina and bay of Monaco roundabout the height of September's annual Yacht Show, it's easy to be less sympathetic about the view. Massive yachts are moored puffy cheek by billowing jowl, resembling nothing so much as a particularly florid dessert, with extra layers of rich sauces and unnecessary accoutrements from an army of sharp-elbowed chefs.

This is the panorama that greets you at the Monaco Yacht Show, where every dock, jetty and pontoon overladen with the white and grey flanks of some of the world's biggest boats. Around 125 superyachts were moored up for this, the 27th annual event, and despite the dips and dives of the global economy, the yachting community remains relentlessly upbeat. People are still commissioning yachts. Fraser, one of the world's pre-eminent brokers and charter firms, claims to have a solid kilometre of yachts on display.

It probably hasn't escaped your notice that superyachts have been getting bigger over the past decade, an expansion that correlates neatly with the number of newly minted billionaires emerging from territories where such wealth was once anathema. However, as Fraser's annual review of life on the waves noted, sales growth is actually in the middle market, the 20-40 m boats that were once in danger of being swallowed up by the megayachts. Although there will always be those who live to commission increasingly massive yachts, some in the industry see the way forward in this middle ground. The 'pocket superyacht' is a charter favourite, offered by companies like Fraser, Y.Co, Burgess and Camper and Nicholson as an upscale alternative to a villa in the Maldives or a high season week in Courchevel. Might might not always be right.

Monaco, and the media, still favours the massive – the average size of the boats on display was an impressive 49m and the top five were all 70 m plus. Like a giant sea beast, the yacht world is an ecosystem feeding many, many smaller creatures, from interior designers and furniture makers, to porcelain and crystal specialists, art, IT and security consultants, pilots of helicopters and submarines, chefs, stewards, and managers and many, many more.

Away from the massed ranks of docked behemoths, there's always fascination to be found in the dedicated toys and technology aimed at this very particular elite. It was also the second year of a dedicated 'car deck,' with the supercar-loving Monégasques getting a chance to check out their next ride, be it brand-new or elaborately restored.

So with memories still fresh of the swish of endless tenders shuttling foot-weary punters backwards and forth, and the sound of waves lapping against expensive hulls (not to mention the high-pitched hum of photographic drones and those coastal views from NetJets' brand new Challenger 350), here is our selection of the best in show, both above and below the waves.
Project Triton: We kick off with a classic, the kind of collaboration that takes years to set up. Aston Martin's announcement that it is teaming up with long-established submarine manufacturers Triton will stir the soul of that small sub-section of customers looking for a performance kick in the wet and the dry. Aston Martin Consulting has transformed Triton's three-person sub with dynamic new lines, creating a machine that looks poised, dynamic and – appropriately enough – pleasingly fluid.
Cloud 9: The traditional grand yacht was well represented by Cloud 9, a 74 m yacht styled externally by Studio Zuccon and internally by London-based Winch Design. The whole ensemble was overseen by specialists Burgess and built at CRN Shipyard. Cloud 9 is geared towards outdoor living, with a cascade of rear decks spilling down to the ubiquitous beach club. On-deck accessories include a Teppenyaki bar and a karaoke system (think of all the eclectic party themes you could come up with), while up to 12 guests can be accommodated in the eight cabins.
Rossinavi Endeavour II: We recently featured Rossinavi's new Aurora, but the Italian shipyard also had another debut at MYS, the Endeavour II. Team For Design's all-aluminium yacht measures 49.9 m and the Salvagni Architetti-designed interior deploys clean lines and contemporary Italian furnishings, making it feel a world apart from the industry's still widespread reliance on 'traditional' style.
Glider Yachts Supersports: You'll need plenty of space and a strong constitution to trial the Glider SS 18. Promising a frankly outlandish 96 knots top speed, this slender craft is raised up above the water on two rapier-like floats, minimising drag and giving the pilots and passengers the sensation of being in a high-flying sports cabriolet.
M/Y Legend: Expedition yachts continue to proliferate, as the escapism offered by visits to the far-flung corners of the world's oceans gain traction. We experienced the folksy interior of the M/Y Legend, an (alleged) former Soviet spy ship converted into an ice-class super cruiser with cabins like a 70s dacha, a boatload of reproduction art and a full quota of tenders and toys, including a submarine and helicopter (keeping high maintenance, fast depreciating assets all in one place). Antarctic journeys start with an 80 k charter flight to King George Island, ensuring a truly dedicated clientele.
So'mar: Riza Tansu, the designer and entrepreneur behind Tansu, takes a different tack to yacht design. 'Yachts should be like a beach house in Malibu, not a palace in Paris,' he says from the deck of So'mar, a 37.9 m superyacht that majors on style and space, rather than complex hydraulic push-button gadgetry. Tansu likes to chase simplicity, with a smaller crew and a greater sense of being close to the sea. His forthcoming yacht 'Cyclone' pushes minimalism every further. His boats have a robust form that pioneered the current era of straight bow designs. 'They are little ships first, and then yachts,' he says, explaining how he is inspired by aeronautical design and contemporary architecture.
Areti: The Lurssen built Areti has a Winch exterior and interior, although the latter has been given a far more traditional treatment than the sleek superstructure. Beneath the sizeable decks of this ultra-modern 85 m craft is craftsmanship straight out of the interwar heyday of glamorous yachting, all carved wood, gilt and marble.
Home: One of the largest hybrid-powered superyachts, the Perry Van Oossanen-designed Home was built by Heesen Yachts in the Netherlands. Winning the show's award for most environmentally-friendly luxury vessel, the 49.8 m Home has smaller engines meaning more accommodation, as well as the ability to cruise silently on electric power. Italian designer Cristiano Gatto created the appropriately minimalist interiors, using plenty of Paola Lenti furniture.
INFORMATION
For more information, visit the Monaco Yacht Show website (opens in new tab)
Jonathan Bell has written for Wallpaper* magazine since 1999, covering everything from architecture and transport design to books, tech and graphic design. He is now the magazine's Transport and Technology Editor. Jonathan has written and edited 15 books, including Concept Car Design, 21st Century House, and The New Modern House. He is also the host of Wallpaper's first podcast.