Ora-ïto and Thierry Marx do Japanese street food the Parisian way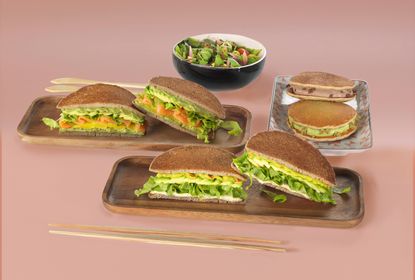 (Image credit: Photography: Mathilde De Lecotais)
It was in Tokyo that the French chef Thierry Marx came upon a machine for making dorayaki – Japanese pancakes filled with red bean paste – and had a vision of what fast food could be. Fresh, delicious, healthy, ethical, even a little exotic. 'With simple ingredients and good added value, it's possible to have an experience that is both gastronomic and emotional,' he says.

This vision became reality in late October with the opening of Marxito in Paris, steps from the Avenue des Champs-Elysées.

The two-Michelin-star chef's take on the dorayaki is round, slightly thicker than a crêpe and made with buckwheat. The fillings, which will change with the seasons, range from 'avocado heaven' (guacamole, pickled red onions, roasted black sesame seeds, ginger tofu sauce) to 'pastrami fireball' (with a subtle kick from Korean mustard) to the one that is sure to keep'em coming back for more, 'pink salmon pickle' (tender smoked salmon, super fresh lettuce, miso sauce and the satisfying crunch of pickled yellow radishes).
A lunch menu, at €15 or €17, includes a marxito sandwich, a salad, a drink and a dessert sandwich – wheat flour pancakes filled with plain, chocolate or matcha cream. (Artisanal jam is an option at breakfast.)

Whenever possible, Marx is working with small or local producers – using buckwheat flour from a traditional mill in Brittany, or fruit and vegetables from small French farms. He says, 'I want to prove that with sound, sustainable agriculture, the world of gastronomy has beautiful days ahead.' The staff includes graduates of his culinary school for disadvantaged youth.

Ora-ïto, Marx's design partner in this venture, has created an ambiance as clean, light and fresh as the food. The room is bathed in a soft salmony pink. A succession of backlit panels descend from the ceiling to become tables, reflected in a wall of mirrors. Beechwood and beige leather chairs are edited by Cassina. The designer explains, 'This is fast food – it's not precious – so we wanted a space that was simple and easy to duplicate.'

The long-term plan? Nothing less than worldwide expansion. Move over, golden arches, Marxito is coming to town.
INFORMATION
For more information, visit the Marxito website (opens in new tab)
ADDRESS
1 bis Rue Jean Mermoz
75008, Paris, France
VIEW GOOGLE MAPS (opens in new tab)