Balloons fill a ticket office in Denmark with Martin Creed's pink pop-up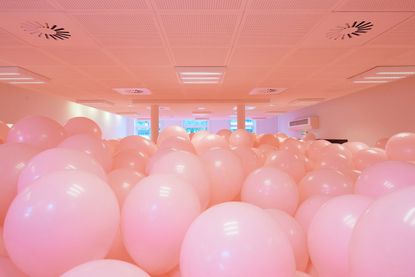 (Image credit: Trekantområdets Festuge/Ard Jongsma)
Balloons are crowding up a ticket office, senate room and children's library in central Denmark, generating mild confusion followed by mass excitement.

The mastermind behind these whimsical installations is British artist Martin Creed, winner of the Turner Prize in 2001. The project, titled Half the air in a given space is in fact two decades old, previously shown at the likes of New York's Park Avenue Armory, London's Hayward Gallery and Guadalajara's Ladera Oeste. This is, however the first time it has reached Denmark's shores, and the fact that it is installed in the country's heartland as opposed to an institution of international repute in Copenhagen or Aarhus does not escape notice.

The three locations – Fredericia Railway Station, Vejle Town Hall and Kolding Library – are all situated in the Triangle Region, which comprises seven Danish municipalities. 'It's a central point for transport and industry,' explains Marie Nipper, one half of the curatorial duo behind the project (she is also director of Copenhagen Contemporary). 'They are not known to focus on art. But about one and a half years ago, they decided to bring more contemporary art to the area that would create a better sense of community and belonging. And so they asked us to get involved.'

Nipper's partner, Simon Friese (a former director of Copenhagen's Chart Art Fair) continues, 'Martin has never done anything solo in Denmark, and isn't well known among the general public. But Half the air in a given space is fun and playful, and can bring in people who are normally unfamiliar with contemporary art. So it works perfectly outside an institutional setting.'

As the title suggests, half the volume of each installation space has been populated with balloons. Within each space, the balloons are the same colour – pink within Fredericia station's ticket office; white at the neo-Gothic Vejle Town Hall, displacing the town council from their usual meeting room; and light blue in the contemporary Kolding Library, in a space lined with full-height windows and temporarily emptied of its books. 'The colours were chosen in dialogue with Martin's studio and gallery, and relate to the ambiance and architecture of each building,' explains Friese, who loaned the works from Vancouver's Rennie Collection, Hauser & Wirth, and a private collection in Vienna respectively.

Visitors are invited to enter the installations, wade through the balloons and send them bouncing across the space. The immersive experience is a key element of Creed's practice, as he once said, 'the separation of the author and the audience is artificial. The world isn't like that. We're all mixed up.'

Half the air in a given space is a striking debut for Nipper and Friese's art agency, Creator Projects. With ongoing collaborators including artists Katharina Grosse, Alicja Kwade and Jeppe Hein, and a fledging publishing arm called Roulette Russe, Creator Projects seems set to become a major force on the Danish art scene.
INFORMATION
Half the air in a given space is at Frederica Railway Station and Kolding Library from 24 August – 2 September, and Vejle Town Hall from 28 August – 2 September. For more information, see the project website
TF Chan is a former editor of Wallpaper* (2020-23), where he was responsible for the monthly print magazine, planning, commissioning, editing and writing long-lead content across all pillars. He also played a leading role in multi-channel editorial franchises, such as Wallpaper's annual Design Awards, Guest Editor takeovers and Next Generation series. He aims to create world-class, visually-driven content while championing diversity, international representation and social impact. TF joined Wallpaper* as an intern in January 2013, and served as its commissioning editor from 2017-20, winning a 30 under 30 New Talent Award from the Professional Publishers' Association. Born and raised in Hong Kong, he holds an undergraduate degree in history from Princeton University.