Katharina Grosse plunges Gagosian Britannia Street in colour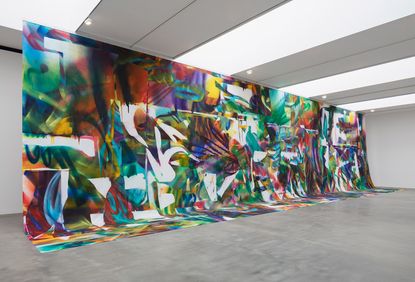 (Image credit: Lucy Dawkins)
Katharina Grosse is no stranger to colour. The German artist is well known for her in situ paintings, which sees her splash a dizzying array of colours onto various surfaces while responding to events and happenings around her. Following her immense installation Wunderbild at the National Gallery in Prague, Grosse has once again created works of a similar scale to present at Gagosian's London Britannia Street address, dubbed 'Prototypes of Imagination'.

One can describe Grosse as a philosophical graffiti artist. Her use of a spray gun and stencils on a canvas is consistent with those we often associate with the street and reckless vandalism. Yet her work is a purposeful exploration of existential concerns, and she treats colour not as a superficial entity, but rather a vehicle for her thoughts and her imagination.
The exhibition features one large central canvas accompanied by seven smaller canvases. Grosse paints her large canvas in particular with the exhibition space in mind – she is aware of how the architectural features of the space will play into the viewer's experience of such an imposing work. Her play on dimensions represents her interest in 'imagining big', while being an insignificant speck in the fabric of the universe – it is this contrasting relationship that allows her to conjure these melting pots of bright hues.

There is a reassuring quality in the chaos of Grosse's canvases – they are an optimistic representation of the power of our imagination despite our small existence.
INFORMATION
'Katharina Grosse: Protoypes of Imagination' is on view until 27 July. For more information, see the Gagosian website (opens in new tab)
ADDRESS
Gagosian
6-24 Britannia Street
London WC1X 9JD
VIEW GOOGLE MAPS (opens in new tab)