Easy rider: 'PAL' electric scooter, by Layer and Nio
As a preview for Wallpaper* Re-Made 2020, we asked the London-based designer and Chinese electric-car maker to take on the problem of the 'last mile'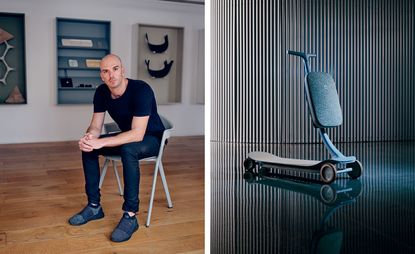 (Image credit: Anne-Sophie Heist)
As we started to plot our suitably heart-warming and celebratory tenth edition of Wallpaper* Handmade, we also knew we had to look forward to the exhibition's second decade. Handmade had been groundbreaking in its honouring of craft and collaboration but it was time to propel ourselves onwards and upwards. Over the lifetime of Handmade, ideas about what design can and should do have been dramatically enlarged. So many pressing to outright urgent concerns – the use and misuse of resources, sustainability, environmental trauma, or even housing provision, food production, meaningful communication, lower-impact travel – can be seen as design problems. 'Design thinking' is being applied in all sorts of bold new ways. Technology and its latest paradigm-shifters – AI and machine learning, big data, virtual reality, the blockchain, the new bio-techs, constant connectivity – present incredible opportunity (if also some amount of dread).

Could we re-imagine Handmade as an experimental showcase for smart, beautiful design that addressed, head on or tangentially, these problems and incorporated new technology? We asked around, and there was excitement but also an understanding that it wasn't going to be easy. We had to focus.

What we needed was a flagship project to include in Handmade X, something that pointed the way ahead and alerted the design world to our plans. We talked to Benjamin Hubert, whose Layer studio has been working at the advancing edge of product design since launching in 2015. Its output includes 3D-knitted upholstery, concept aircraft seating and ceramic charge trays, with a client list that spans from Moroso through Airbus to Nike. Hubert was ready to roll.
Then we just needed a suitable partner, an operation with global but planet-friendly ambition. We looked to China. While Tesla has been seen as leading the charge in electric vehicle development, a number of Chinese makers have been making remarkable advances. Shanghai-based Nio – with its own baby-faced billionaire founder William Li and manufacturing and research outposts in Beijing, Munich, San Jose and Oxfordshire– has launched two high-end electric SUVs. It also runs a championship-winning Formula E team, set the lap record for an electric vehicle at the notorious Nürburgring race track and set a world speed record for an autonomous vehicle.

Nio had already connected with Hubert so the Handmade partnership was not a hard sell. 'The fact that this project was more future-focused really appealed to us,' says Jili Liu, head of Nio's lifestyle division, Nio Life. 'And Benjamin's style really aligns with Nio's. It's very clean but also very lifestyle-driven. We really think he is one of the most talented young product designers in the world.'

Hubert and Nio started to kick around ideas, big and small. 'Ultimately we wanted something that was tangible and accessible,' says Hubert, 'and that addressed urban mobility and the problem of the "last mile".' They settled on the electric scooter, which over the last year has become a common sight on the sidewalks of San Francisco and is picking up speed in other major cities. The problem is it often comes off as a toy for tech-bros, the latest hipster accessory.

Hubert and Nio wanted to push it into the mainstream, and reinvent it as a practical urban get-around for all sorts of people. Hubert and Nio decided to tag their concept scooter 'Pal'. 'We like to think of our vehicles as not just a means of transportation but a companion,' says Liu. And a useful one. Both parties were clear that the scooter's design should be non-aggressive. When parked (or wall hung) at home, Pal should complement, not clutter, your hallways. 'We really see our concept car, Eve, as a second living room,' says Liu. 'And Pal picks up on that concern. It is almost a piece of furniture. So much technology design has these machine-like surfaces. We wanted to really investigate domestic styling.'

RELATED STORY
Hubert designed a series of front-mounted accessories such as shopping baskets and luggage. 'We wanted it to be less a scooter than a travelling surface, that was modular so you could add things,' says Hubert. 'The first renders showed Nio including a baby-carrier but everyone got a bit nervous. It looked a bit vulnerable but it's kind of an interesting idea.' Hubert says the design challenge was finding a balance between the futuristic and the familiar. 'It had to feel conceptual but also relatable. And that really comes out in some of the materials,' says Hubert, 'the use of colour, timber and textiles.' Hubert worked with Kvadrat to find the right textiles for the job, suitably tough but warm.

Functionally, Pal is more a powered-up longboard than an electric scooter. And Hubert was determined that riding it was as intuitive as possible. A key innovation was the scooter's steering mechanism. Pal's rider will lean side-wards to change direction and forwards and backwards to change speed. The scooter's four wheels stay forward-facing but the right-side wheels speed up if you lean to the left and vice versa. 'It is really a platform with a support. You don't steer with the stem, you just hold it. So even though, from 20m away, Pal looks like a scooter, when you get closer you realise that you interact with it in different ways. And that actually, leaning to steer and accelerate feels more intuitive.'

Another key innovation for Pal is its integration into Nio's Nomi AI-system, 'the tech engine beneath the bonnet for Nio'. Pal will connect via Bluetooth to a Nomi app on your smartphone and include a simple display on the stem. You will be able to plot in routes of course (as well as keep track of speed and current charge) but Pal's digital assistant will edge slowly towards autonomy as it 'learns' your regular routes, eventually offering to take total control on these journeys.

Pal also had to be as energy efficient – and therefore as light – as possible. Hubert decided to use graphene-coated carbon fibre as its key material: 'It's pretty advanced; it is just being introduced on road bikes. The graphene, which is just sprayed on as a really thin layer, adds amazing strength, so you can use much less carbon fibre.'
The battery technology already exists to make Pal feasible, but with a home charging station and portable, swappable batteries, the scooter shouldn't need any out-and-about top-ups. It is also designed to fit into the boot of Nio cars where it can be recharged too, offering all sorts of mobility options.

As fully realised as it appears, though, Pal is still three or fours years off. 'You're changing everything really and there are a lot of things to work out: the steering, balance and weight distribution,' explains Hubert. A self-driving Pal is even further away. 'In production terms, there is nothing out there that is Stage 5 autonomous, which is when you won't have to drive the vehicle and it will know your routes. That's still five to ten years away.' Managing the costs of producing Pal is another key consideration: 'It's easy making something that is going to cost £100,000, but who is going to buy that? It's the less sexy side of industrial design but a lot of the process is value engineering, making it accessible and designing it for everybody.'

Liu insists, though, that Pal, an evolved version of it anyway, is something that Nio would like to put into production and sell as a standalone product. Like all major auto-makers, Nio now talks less about car ownership and more about pollution-free mobility, the smartest way from A to B with the potential for interesting, chance diversions at C and D. And the Pal of the future will certainly offer that. It also points us in the right direction. Next year, Wallpaper* Handmade will be re-born as Re-Made. It's our future and we think it's going to be smart, bright and beautiful. §
As originally featured in the August 2019 issue of Wallpaper* (W*245)

INFORMATION
Receive our daily digest of inspiration, escapism and design stories from around the world direct to your inbox