Lexus LY 650 Luxury Yacht marries Japanese performance with Italian aesthetics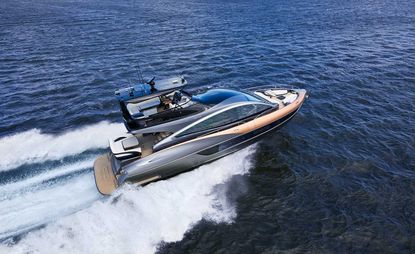 (Image credit: Lexus)
'Lexus is a boring brand.' These were five words that Akio Toyoda was determined never to hear again when he became president of Toyota. 'Hearing this made me feel embarrassed and bitter: Toyota is practically my name so I'd feel personally hurt when one of our Lexus cars was hit, hurt or insulted,' he recalls. Consequently, there has been great change, from the acclaimed annual Lexus Design Event at Milan's Salone, through to airport lounges and even hoverboards, Lexus has transformed from a car brand to a lifestyle brand. The new Lexus LY 650 Luxury Yacht is the ultimate example.

Classed as a 'sports yacht', the LY 650 is bigger than a standard speedboat at 65'5", but with up to 1,350hp available it's certainly no gin palace more suited to posing at Cannes. Instead, it's sleek, powerful and comfortable as well as efficient: the boat's guidance system is programmed to produce optimal – rather than the fastest – performance, and the trim interceptors on the hull keep the boat from pitching when the ocean is squally.
There hasn't been a literal transference of 'car to boat' here, apart from the signature stitching on some door panels. Lexus approached the Italian company Marquis Yachts to manufacture the LY 650; the challenge was to merge Italian and Japanese design philosophies. This wasn't as discordant as one might assume: Dan Lenard, interior designer at Nuvolari Lenard, felt that the Japanese minimalism married well with the cleaner, subtle approaches in Italian culture (think 'Armani' rather than 'Versace').

Walking through the yacht is a calming, sumptuous experience. Furnished with soft carpet underfoot, there is a muted palette of neutral whites, creams and greys, plus wooden veneer wall panels. All appliances have been hidden for a neater appearance, yet despite this minimalist approach the overall effect isn't in the least bit sterile. At the heart of Lexus design lies their philosophy of 'L-Finesse', based upon principles of Japanese hospitality and aesthetics. The brief here was 'movement without movement', so the curved lines are intended to be welcoming and draw guests in (plus it's great for those still finding their sea legs).
Unveiled in Miami, the yacht comes in an unusual grey/rose gold combination, although currently there are five colourways available. However, at $3.7 million, if the buyer wants neon green, that can no doubt be accommodated. Going on public sale in the USA on 30 October, the company hopes to make around 6-8 examples each year. As it currently stands, five have been sold, largely to car dealers and real estate developers in the US. However, there has been one buyer over in Japan: Akio Toyoda himself. The ultimate endorsement? Able to find the anonymity when sailing in Miami that he cannot enjoy in his native country, the eagle-eyed out there may spot Toyoda cruising Florida's motorways. Whether they'll see him on a hoverboard, however, is another matter.
INFORMATION
Lexus LY 650, from $3.7m. lexus.com/future/LY-650