Kitchibe is the Japanese fragrance brand with a sixth sense for sweet smells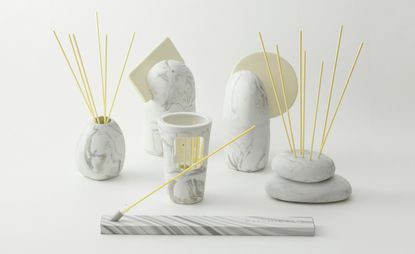 (Image credit: Kitchibe)
Challenging the expression 'three is a crowd' is new brand on the block, Kitchibe. A collaborative effort between fragrance house Shiono Koryo, ceramics company Housen-Gama and designer Takumi Shimamura, the latest diffuser collection that harks back to Japanese heritage while meeting modern needs.

Drawing upon the symbolism of differently scented plants surrounding Japanese temples, Kitchibe offers six carefully crafted scents, each evoking a different aspect of Japanese culture and housed in stone-like ceramic vessels. 'Sakura' summons cherry blossoms in early spring, with a warm wood base note; 'Washi' effuses an ode to the craft of Japanese paper-making, with a leather and cardamom top note; while 'Matcha' conjures up tea room tradition, intermingling tatami, bamboo and jasmine.

Another frangrance in the collection evokes the snowy stillness of winter with a cool crystal mint note; and then there's the herb-infused agarwood offering as well as 'Yuzu', sharing its name with the Asian citrus fruit. The ceramic diffusers swirling designs are reminiscent of Japanese stone, with each vessel echoing natural motifs, including a moon peaking out behind mountains. Kitchibe's scents can even be enjoyed on the move in the form of 'Tumbler', which can be placed in the cup holder of your car.
INFORMATION
For more information, visit the Kitchibe website