Perfume as alchemy: Julisis reveal two new Elixir scents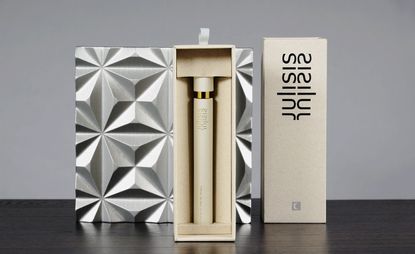 (Image credit: Charlotte Crowston and Mihaela Berbecar)
Founded by Julius Eulberg and launched in 2003, Julisis is a Berlin-based skincare company specialising in organically based products inspired by ancient alchemy.

Over the last decade, its products have attracted a bit of a cult following (helped, no doubt, by a mention in the March 2008 issue of Wallpaper*), so we were intrigued to see that it has recently launched two fragrances as well.

Eulberg – who has worked with Comme des Garçons and lived for some years in New York – describes the new perfumes as 'fragrance for people who do not like fragrance usually', and they're both as light and undemonstrative as that suggests. 'L'elixir du jour' has a fresh, herbaceous, rather sweet-smelling scent, while 'L'elixir d'amour', in keeping with its name, is slightly darker and more sultry in character.

They might not be the most ground-breaking perfumes on the market, but their packaging has certainly been carefully thought through. Each spray comes in a slim wooden container, 'L'elixir du jour' in white wood and 'L'elixir d'amour' in charcoal grey, and both fit snugly into rather sculptural cardboard boxes; the former's has gold lettering and a graphic of the sun, while the latter's has silver lettering and a graphic of the moon. Whether the packaging justifies their high cost we're not so certain, but maybe that's alchemy for you.
INFORMATION
'L'elixir du jour' and 'L'elixir d'amour', from €198. For more information, visit Julisis' website (opens in new tab)

Photography: Charlotte Crowston and Mihaela Berbecar