Inserting the style into lifestyle, the Bamford family's latest project is a handsome new men's grooming line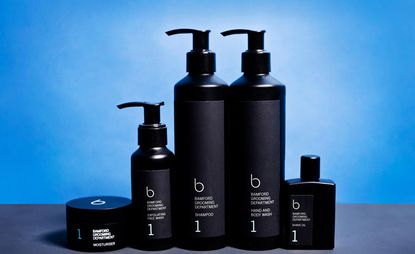 (Image credit: Michael Ainscough)
It would be something of an understatement to say that George Bamford, son of Daylesford Organic founder Lady Carole Bamford, travels regularly. Bamford, who heads the horology brand Bamford Watch Department (opens in new tab), finds himself in the air at least one a week and usually on short 12-hour turnarounds, owing to his young family in London.
'I was actually in the shower,' says the 34-year-old of one such work trip, 'and looking at the products in front of me it struck me that I had unisex mass market products everywhere and I thought, "where's mine?"' he grins. 'I feel that in the man's [grooming] world, there isn't much and it is very easy to say you are marketing to men, but it tends to be unisex.'
Upon his return the idea quickly became a family affair: 'I was sitting at a Sunday roast lunch with my mother,' he recalls, 'and I was saying that I wanted to look at extending the brand into other fields and my mother said to use her experts at Bamford Bath and Body. She has some of the best in the world for bath and body products, so over roast chicken we ended up deciding to collaborate.'
Catering to the lifestyle needs of the discerning modern man, the tightly edited Bamford Grooming Department (opens in new tab) line is pleasing on all the senses from the packaging's sharp lines to its active natural ingredients. 'We took a precise approach to the products' design and scent,' he says of BGD's aromatic fragrance that blends vetiver, agarwood and dark amber. 'Vetiver was inspired by my father,' he adds, 'as it was one of my oldest memories as a child to have my father spray that smell so I thought I had to have that and agarwood is one of the oldest traveller smells.'
Edition One includes five key grooming products: shampoo, hand and body wash, shaving oil, exfoliating face wash and a daily moisturiser. 'I wanted to enter the market with all the products that a man would need for a few days travel,' he says. 'There is nothing essential that is missing, but I also wanted to keep it simple,' he says, motioning towards the brand's miniature travel pack. ' I always hated having too much to decide between,' adding, 'and, of course, it allows for scope to develop the range, which myself and the team are busy working on.'
In addition to the aforementioned products, Edition One also includes a man-sized, natural wax candle of the same signature scent that will be stocked at Colette in Paris and Dover Street Market in London later this month. The candle's ceramic lid can also be elegantly monogrammed within Bamford's London stores.
'I am into the fine details in my watch business,' he says, of the luxury timepieces that he customises with military grade PVD, which give the same black Titanium look as BGD's bottles. 'I applied this here with the package design, the shape of the shaving oil and the feel of the rubberised textured stickers.'
But most of all, he says of the formulations, 'the range needs to deliver. I would like to think that our clients trust us to source ethically and sensitively without compromising the performance.' Hear, hear.