Infiniti cars launch in the UK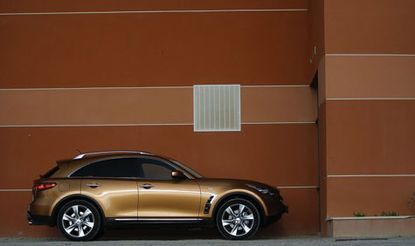 (Image credit: press)
The arrival of Infiniti into Europe could end up being a timely one. The fragile economy has somewhat forced us to question our want for extravagant gestures of consumption. And, nothing could be more conspicuous a commodity than the personal motorcar.
see more from the Infiniti fleet (opens in new tab)
This luxury marque from Nissan is fresh off the boat from US shores where it has been enjoying success for nearly 20 years. Headquartered near Geneva, Infiniti was introduced across Europe in 2008, with right hand drive cars arriving in the UK in 2009. With a small portfolio of high performance cars, the company hopes its subtle take on luxury will have Japanese cultural and aesthetic heritage at its core.
'It is the seductive alternative,' remarks Nissan Group Design Director Shiro Nakamura, the man who directed the Infiniti brand's Euro launch with immaculate such precision from a studio outside Tokyo. Nakamura's astute vision has not only shaped the cars, but also the architecture of the showrooms -- even the design of the staff business cards was signed off by him. Nissan is aware that Infiniti will have to work as an entire package from the word go if it's to make an impact in a market where brand snobbery often dictates consumer choice.
The Euro line-up boasts two SUVs. At the very top sits the FX, including the flagship V8-powered FX50 unveiled at the Geneva Motor Show in March. The smaller, more city-friendly EX37 compact coupe crossover has also been styled entirely with Europe in mind. "The crossovers are stronger in design and more European in finish," admits Nakamura. Infiniti will also offer the G37 saloon and coupé, with a convertible that is due to be unveiled at the LA Motor Show later this month.
Europeans have different demands, and with this in mind a team of ten specialist engineers have re-engineered the Infiniti brand to add more 'driveability' - these customers expect a much higher standard of handling, especially in the premium sector. Attention to detail was exhaustive, including fine-tuning the exhaust note so that the quality of the sound is more appealing to ears reared on sporty engines.
According to Nakamura the Infiniti brand is 'sexually neutral'. He elaborates by saying "we are aiming for wide acceptance." In other words, these are cars for both men and women. The design language, he says, was inspired by nature. "This is its Japanese DNA," he says, adding by way of explanation, 'for me it is equivalent to the Kimono or the Samurai sword. Nissan, on the other hand, is like Japanese Anime. The modern, mechanical side is represented through Nissan, and old Japanese culture through Infiniti. Infiniti respects the rules like classical music, Nissan breaks them like jazz.'
There are more elements of traditional design at play. Purple is the colour of Japanese royalty, yet it is also a key colour for the Infiniti brand, used sparingly as mood lighting in the cars and in discrete splashes in the showrooms. Elements of the 'old Japan' Nakamura refers to can be detected after closer inspection of the cars, like the sculpted piano black wood panel inside the FX's door. Elsewhere, Washi paper (Wagami or Japanese paper) inspired the treatment of the metal panels; there is a feel of intricate craftsmanship throughout the cabin design.
Washi paper has also inspired showroom exteriors. Located on prominent urban sites, the Infiniti house style is to use frosted glass, giving only a glimpse of what's within. The retail centres are very much integrated in the whole brand launch with showroom interiors taking inspiration from luxury hotel design, featuring a lobby, lounge and a gallery that can accommodate at least six cars, exhibited like individual sculptures. Potential customers will be treated to one-on-one levels of attention.
Right now it's hard to predict the kind of reception Infiniti will have when it arrives in the UK in mid-2009. Britain is a unique market for cars, with far high levels of brand snobbery than the rest of Europe, so the designers behind the Infiniti name will be paying close attention. So too will Carlos Ghosn, Nissan's charismatic CEO. Ghosn is adamant that Infiniti will succeed on its own terms. 'Infiniti is not about doing what everyone else is doing. It is not about copying traditional, conservative notions of luxury,' he says, "We will not try to be all things to all people, but everything to some people."
Infiniti is setting its own brave agenda – in theory at least. What's certain is that success in Europe will give Nakamura and the team the confidence to delve deeper into their unique hybrid of the classical and modern Japanese aesthetic.